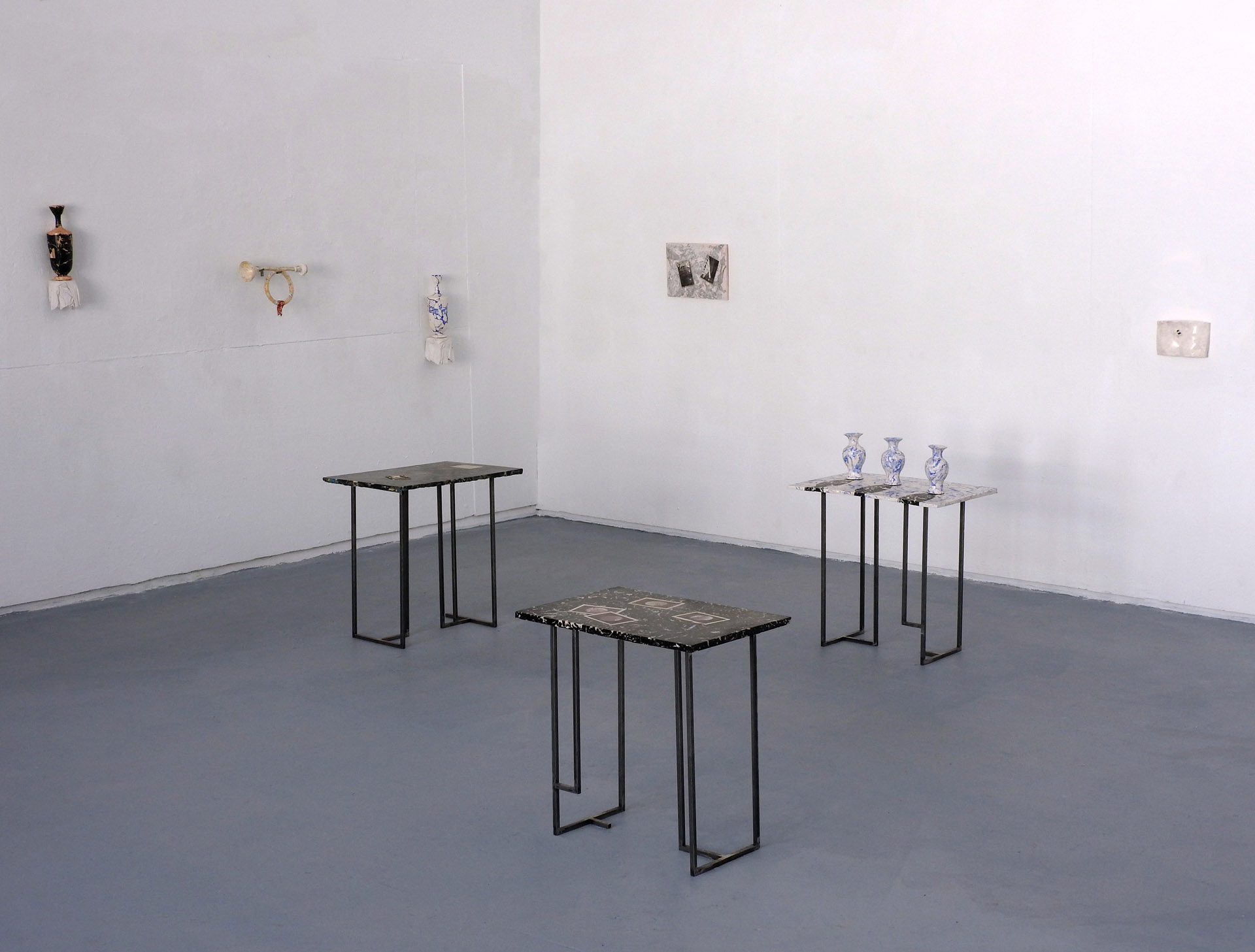 Passages, 2020. Beaux-Arts de Marseille. Received the Prix François Bret. Within the framework of Manifesta 13 and PAC.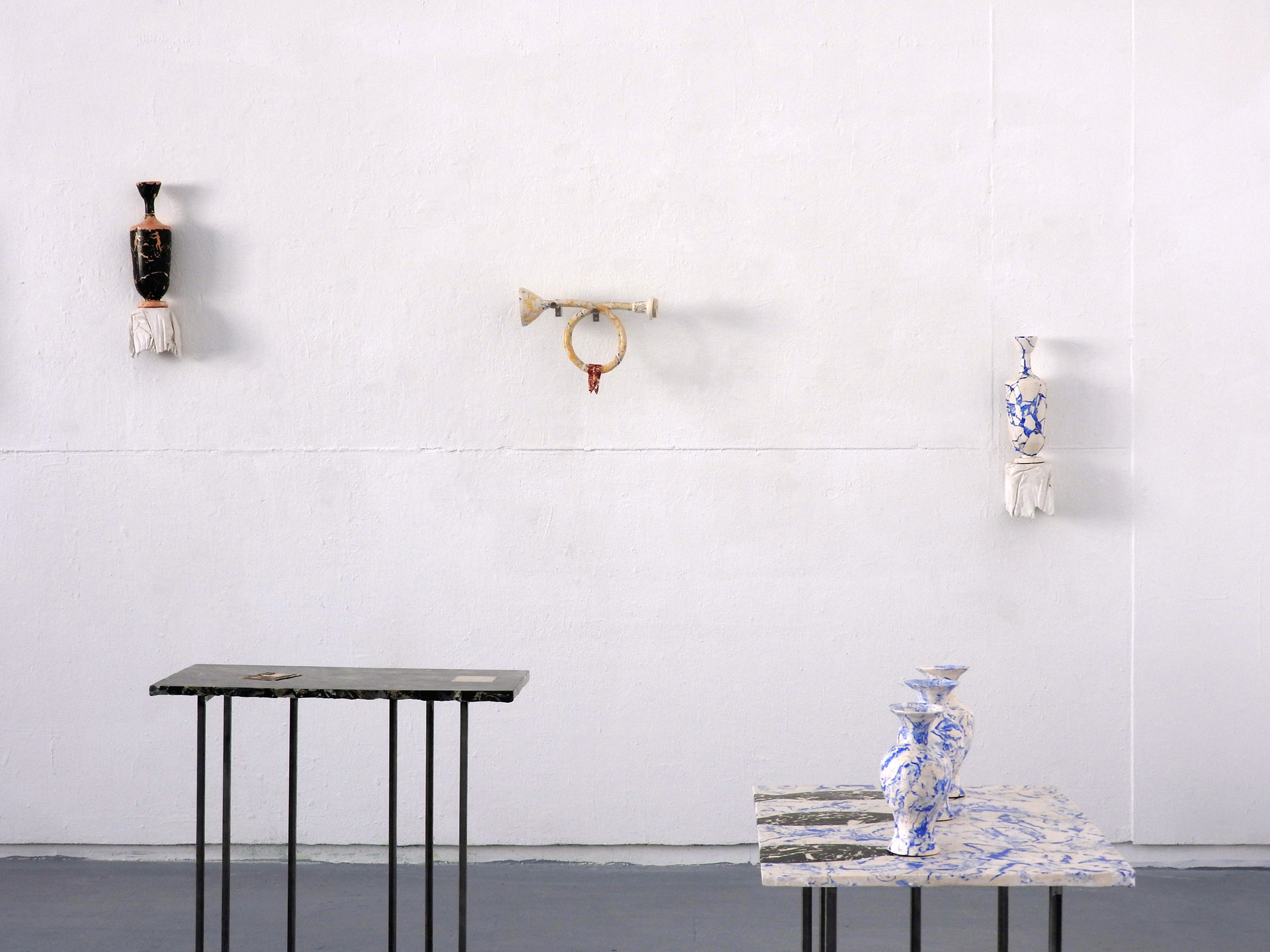 A series of sculptures questioning how objects and materials carry ideas or histories, linking plaster techniques to histories of exotic appropriation, colonial exhibitions, and the architecture of Marseille.
Liant techniques du plâtre, histoires de l'appropriation de l'exotique, expositions coloniales, et architecture de Marseille, cette série de sculptures met en question la façon dont les objets et les matériaux peuvent être porteurs d'idées ou d'histoires.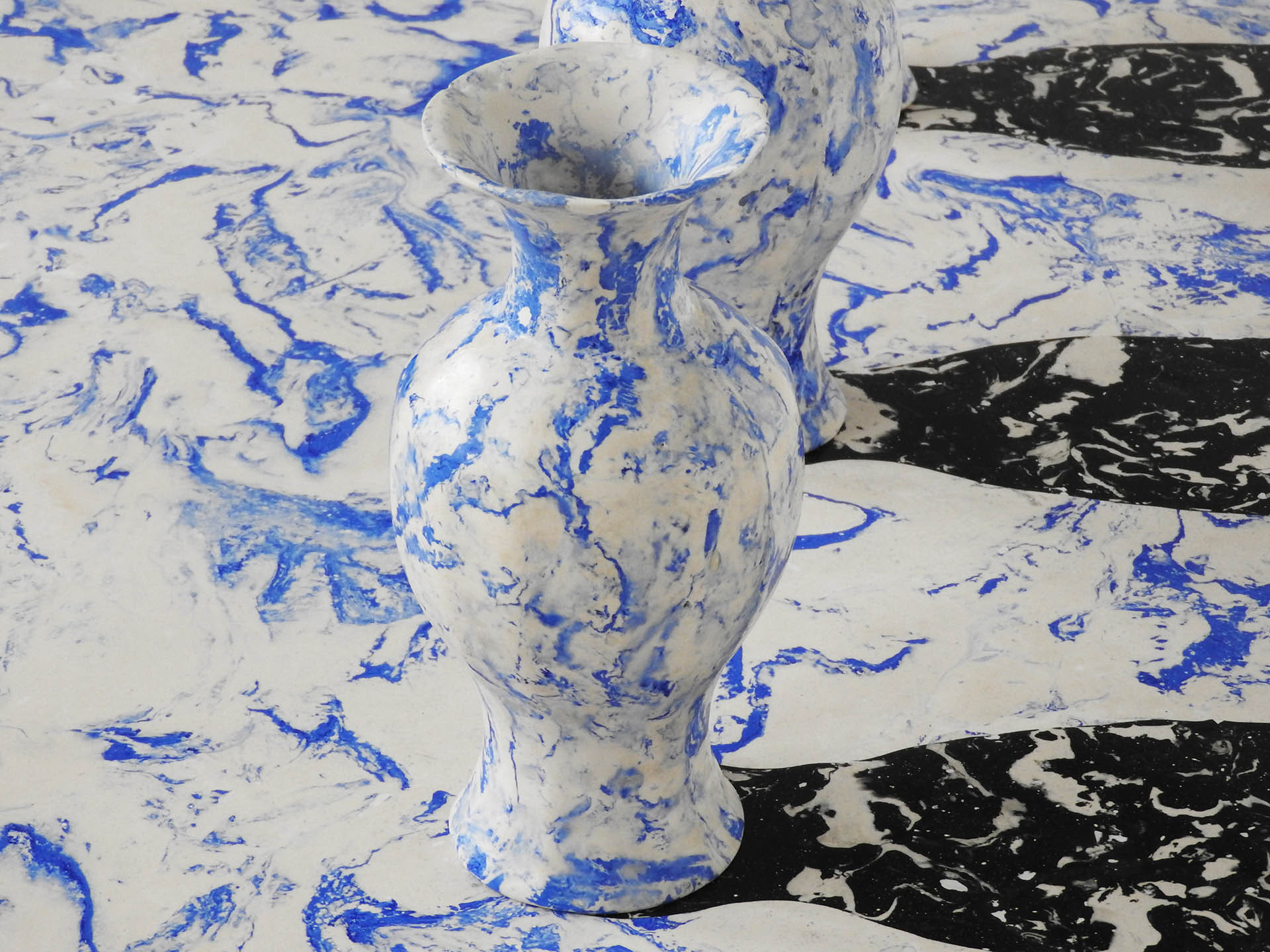 Balustrade potentielle, 2019. Scagliola (plaster), pigments, steel. Panel 70 x 50 cm, vases 20 x 10 cm, trestles 30 x 15 x 70 cm.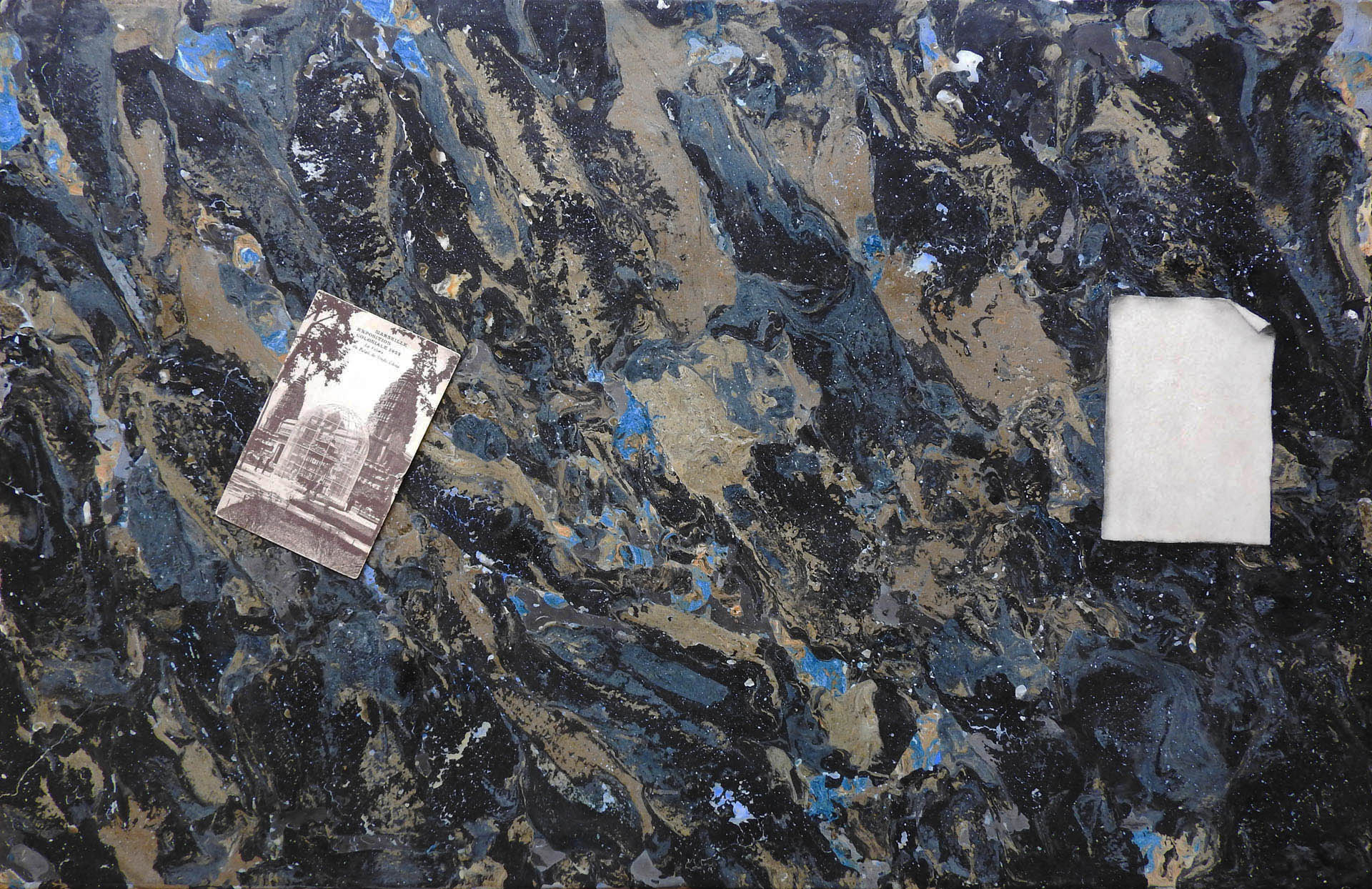 Volière (Flight-object), 2020. Scagliola (plaster), pigments, steel, one postcard. Panel 70 x 50 cm, postcard 13.7 x 9 cm, trestles 30 x 15 x 70 cm.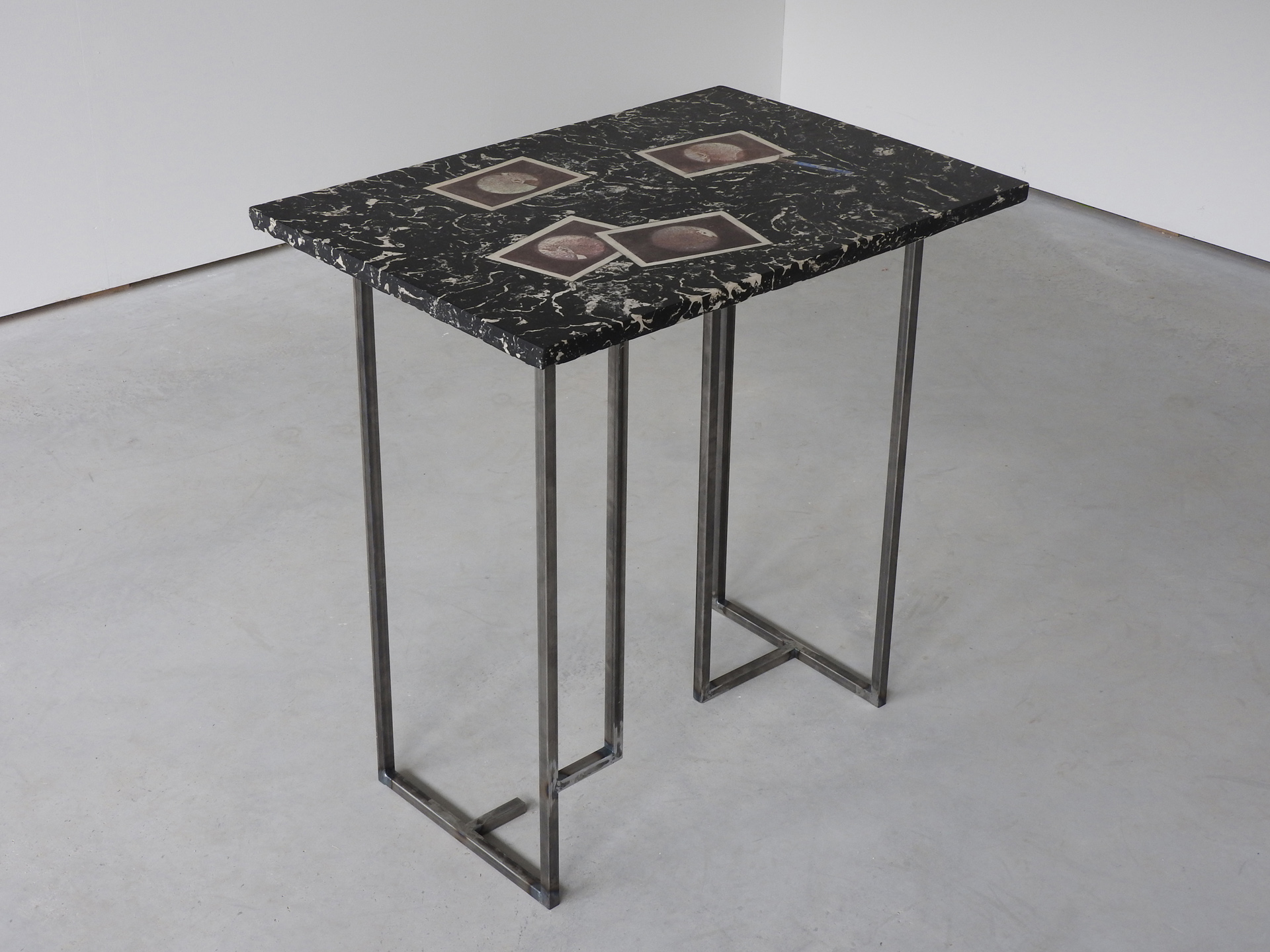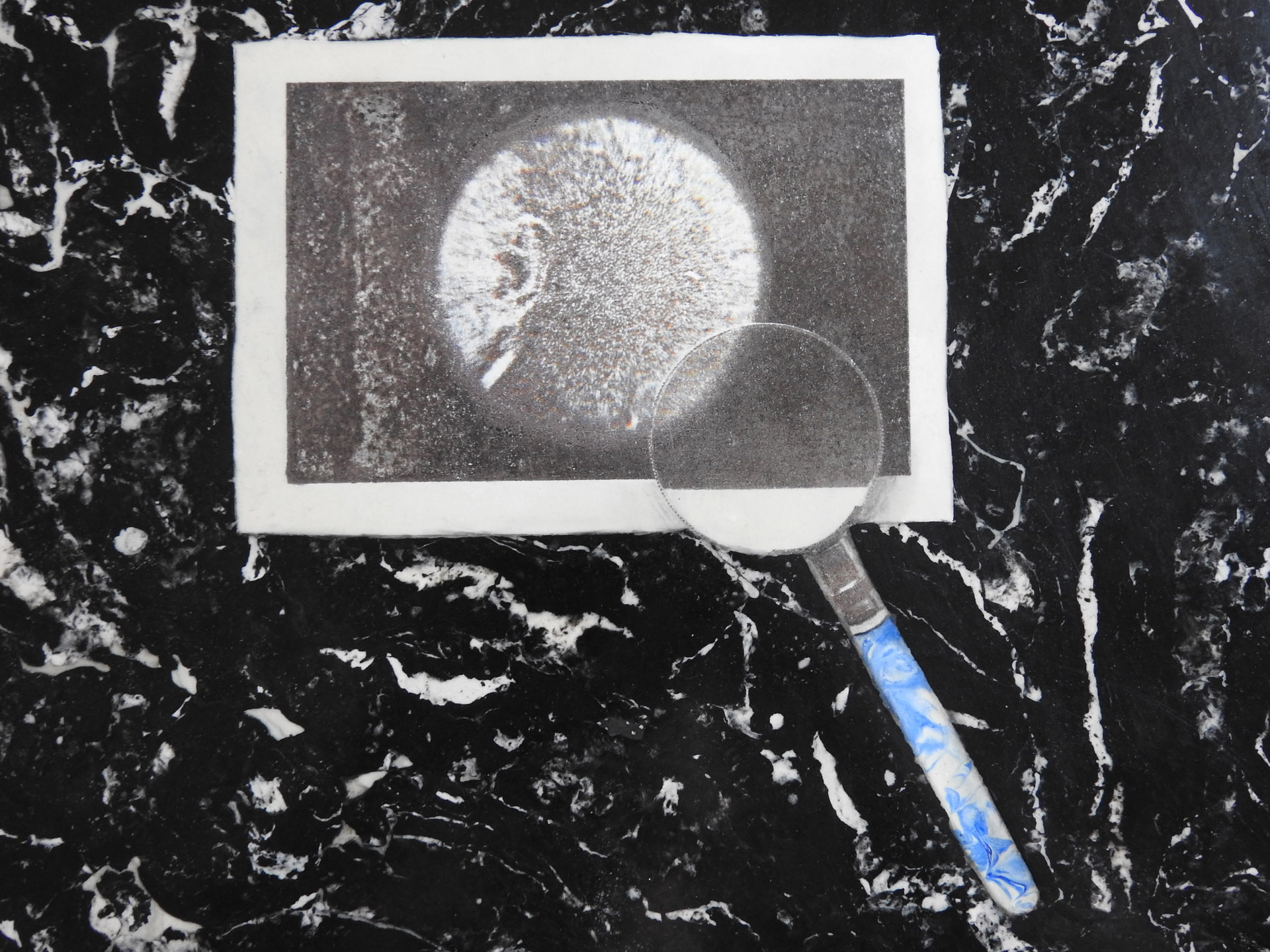 Scagliola panel with lacunae, 2019. Scagliola (plaster), pigments, steel. Panel 70 x 50 cm, trestles 30 x 15 x 70 cm.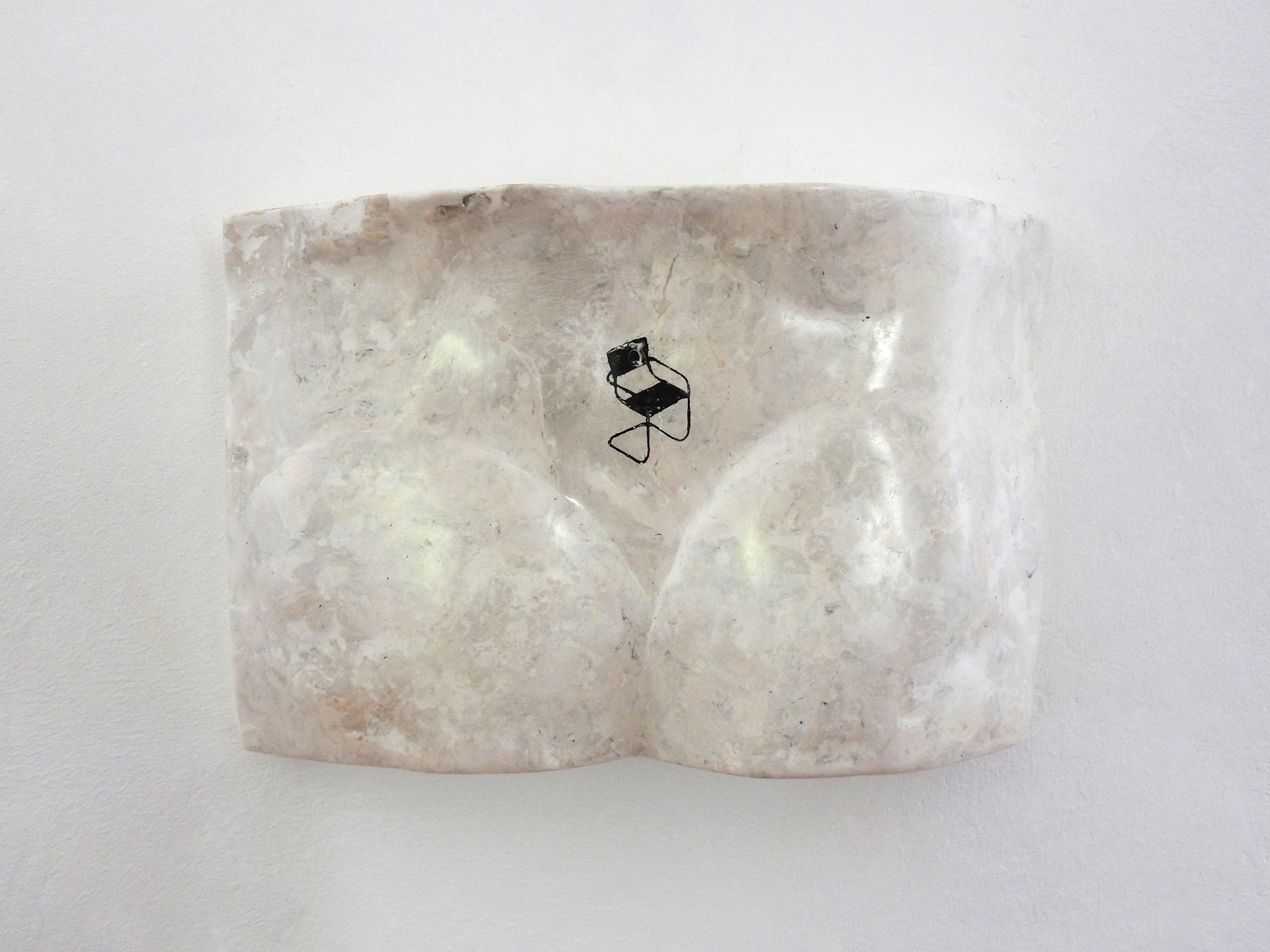 Subject-Object, 2020. Scagliola (plaster), pigments. 26 x 17 x 7 cm.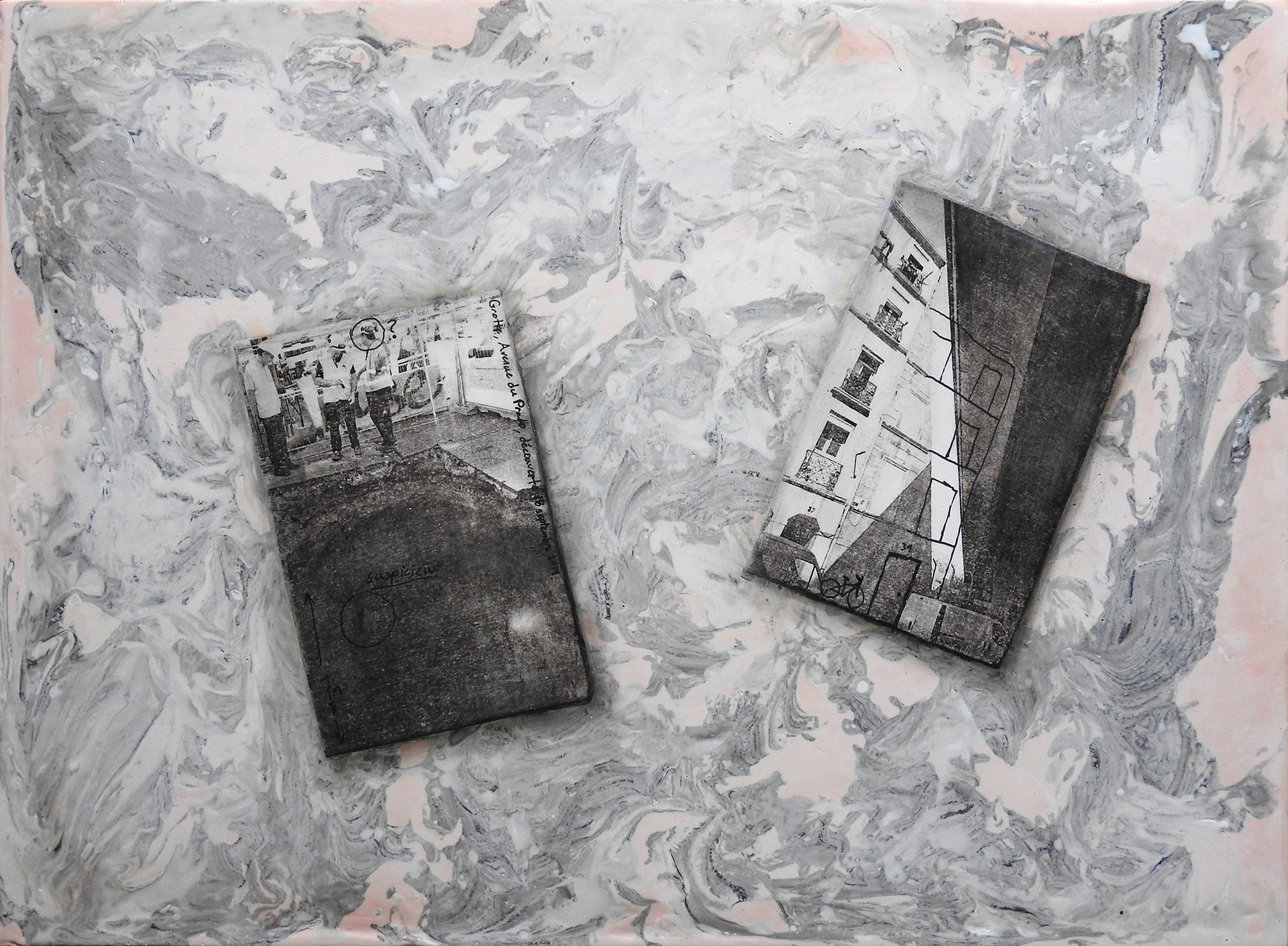 Scagliola panel with excavations, 2019. Scagliola (plaster), pigments. 40 x 30 cm.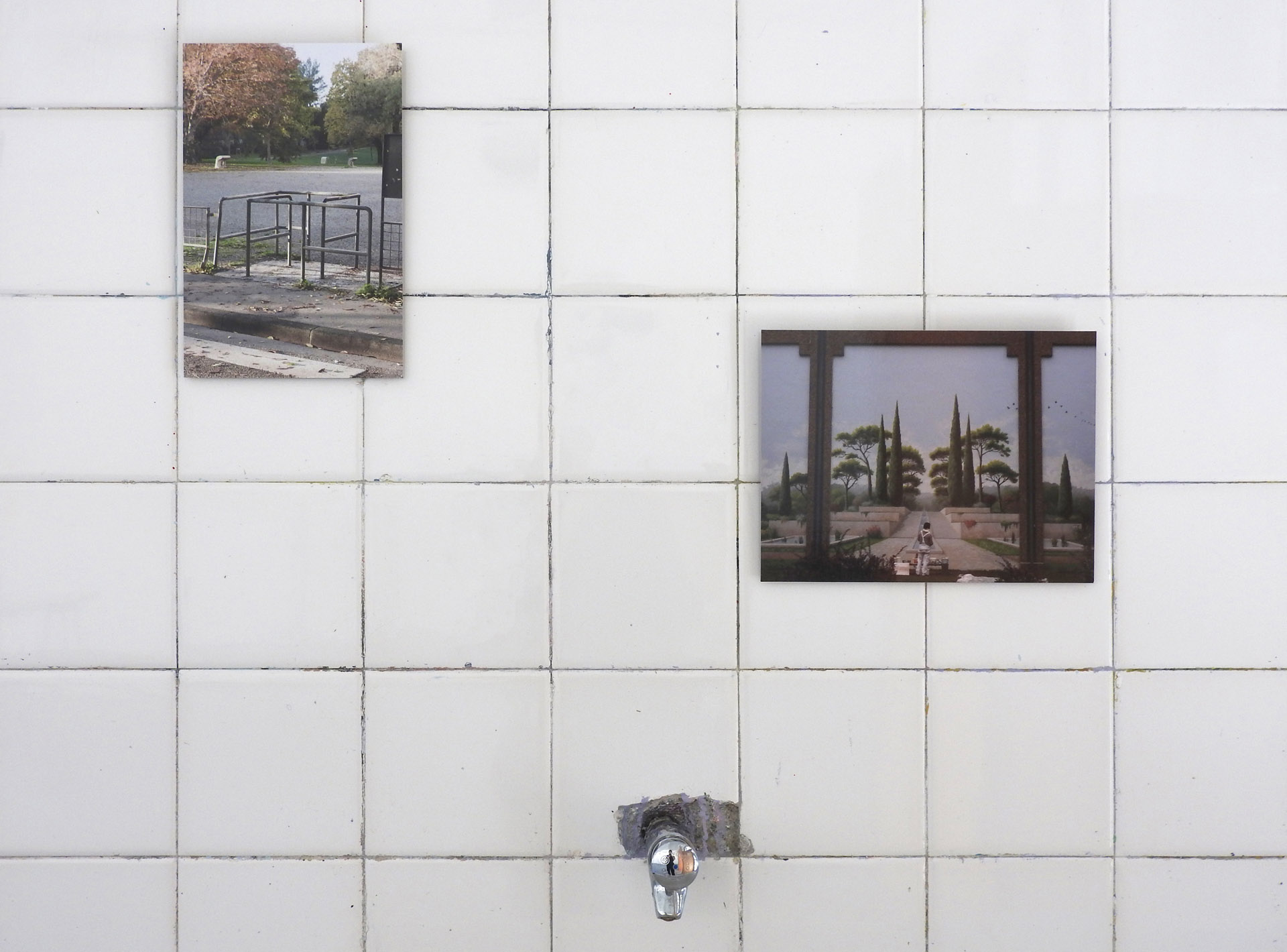 View of the exhibition.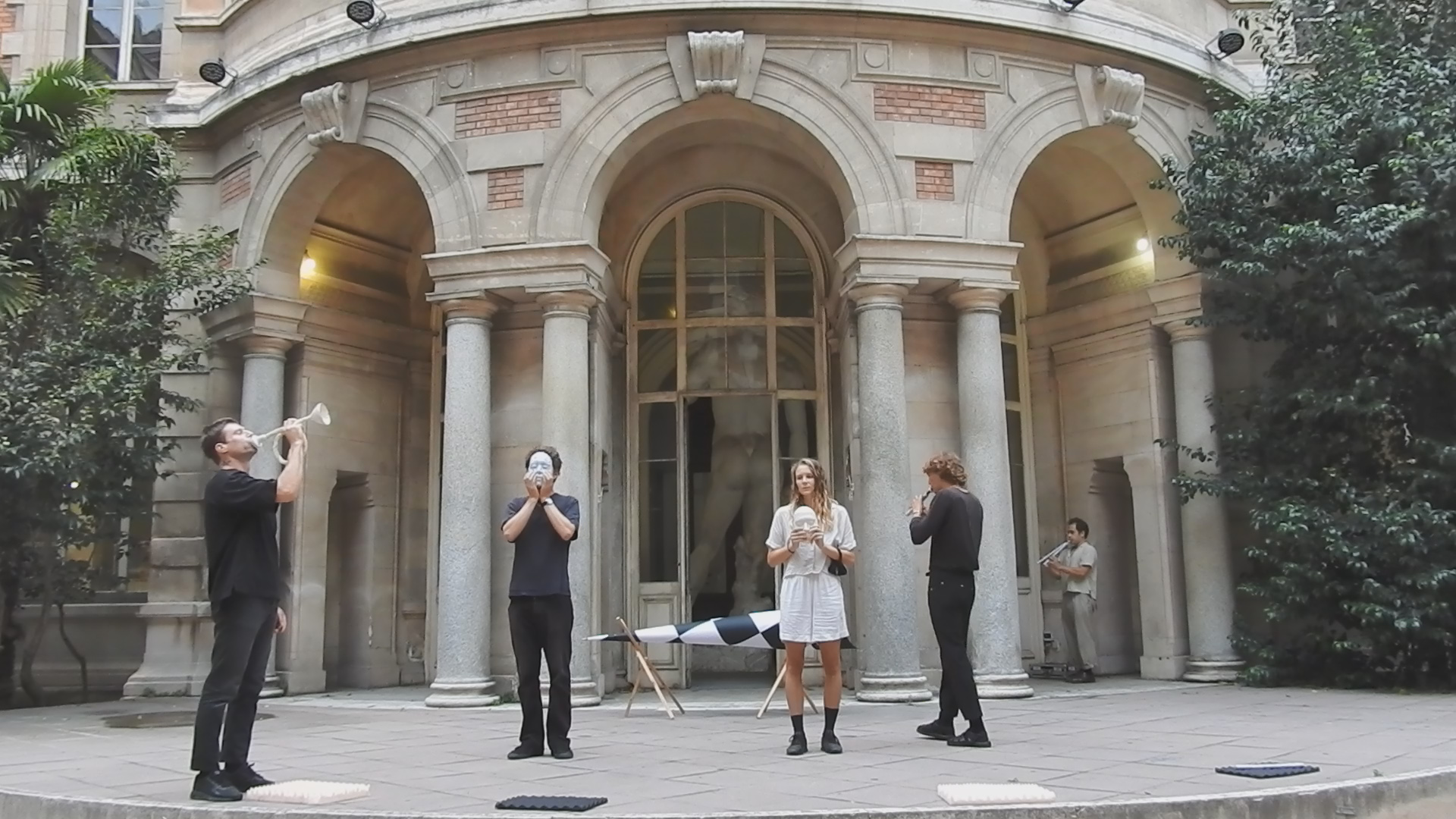 A procession viewed from several angles, 2020. Performance. 15 minutes. Conservatoire Pierre Barbizet, Marseille. Within the framework of Manifesta 13, PAC, Art-Cade Gallery, and the exhibition Liminal, at the invitation of Flore Saunois.
A performance of sculptural-musical objects, inspired by minimalist musics and Japanese gagaku. Arising from a fascination for the musical object, this performance suggests new forms for musical practices. This performance moves between architectural, sculptural, and musical materials, playing with the ornamental sounds and architectures of the conservatory.
Une performance d'objets sculpturaux-musicaux, s'inspirant de musiques minimalistes et du gagaku japonais. Découlant d'une fascination pour l'objet musical, cette performance suggère de nouvelles formes de pratiques musicales. Jouant avec les sons et les architectures ornementaux du conservatoire, la performance opère des déplacements entre les matériaux architecturaux, sculpturaux, et musicaux.
Performers : Lucas Cero, Lucian Moriyama, Simon Schadwinkel, Cyprien Schaffner, Etta Wunsch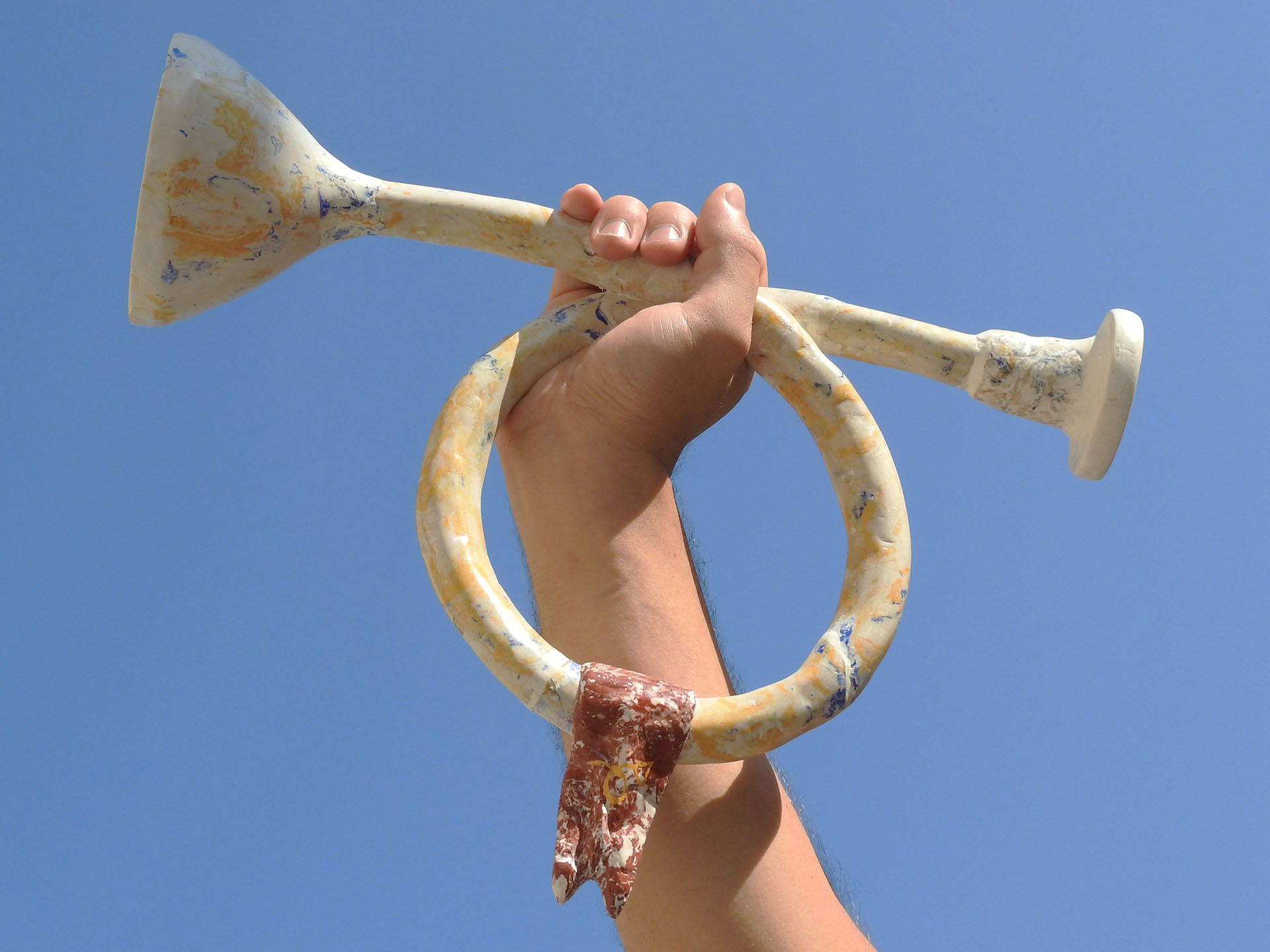 False Trumpet, 2020. Scagliola (plaster, pigments), accordion reeds. 38 x 28 x 12 cm.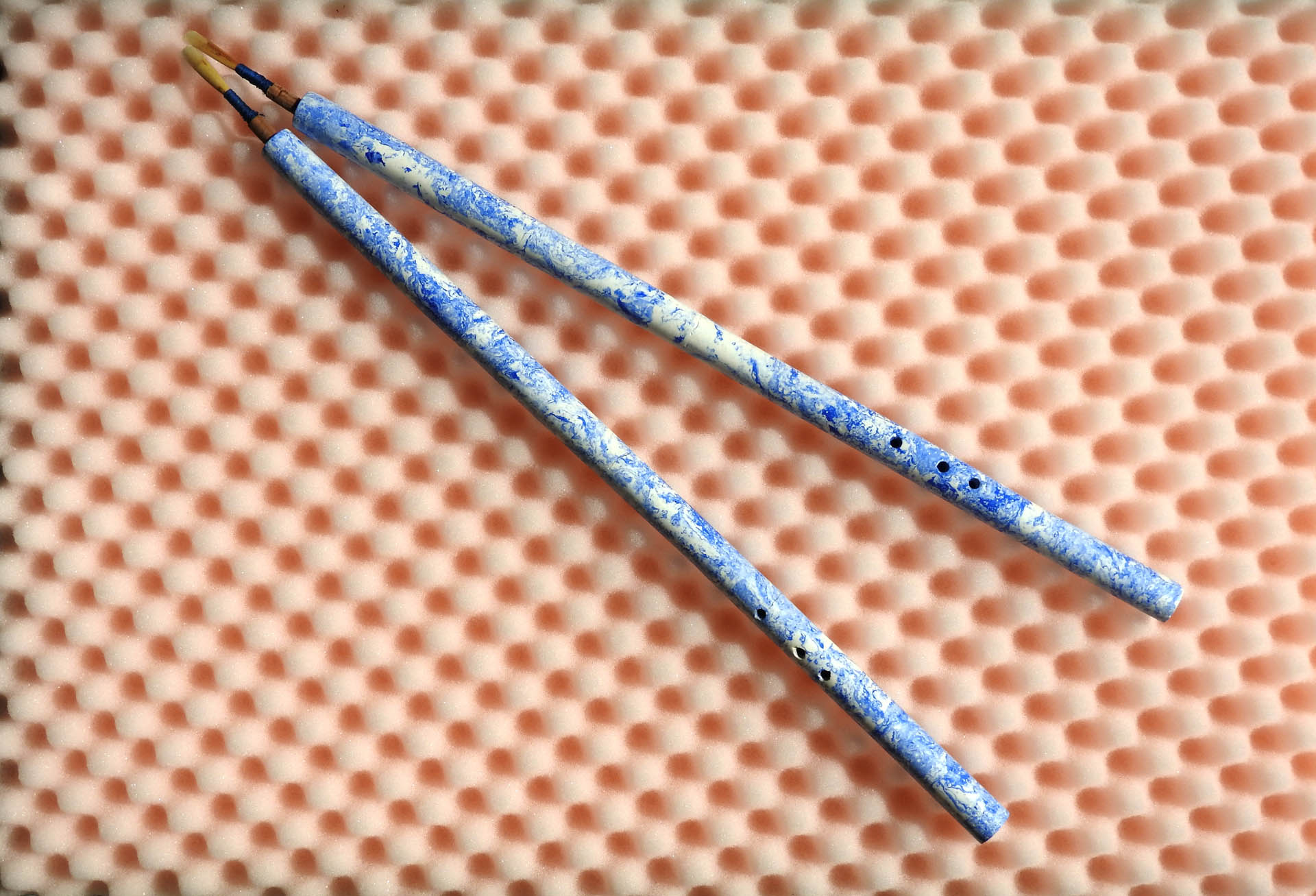 Aulos, 2020. Scagliola (plaster, pigments), oboe reeds. Each flute 42 x 2 x 2 cm.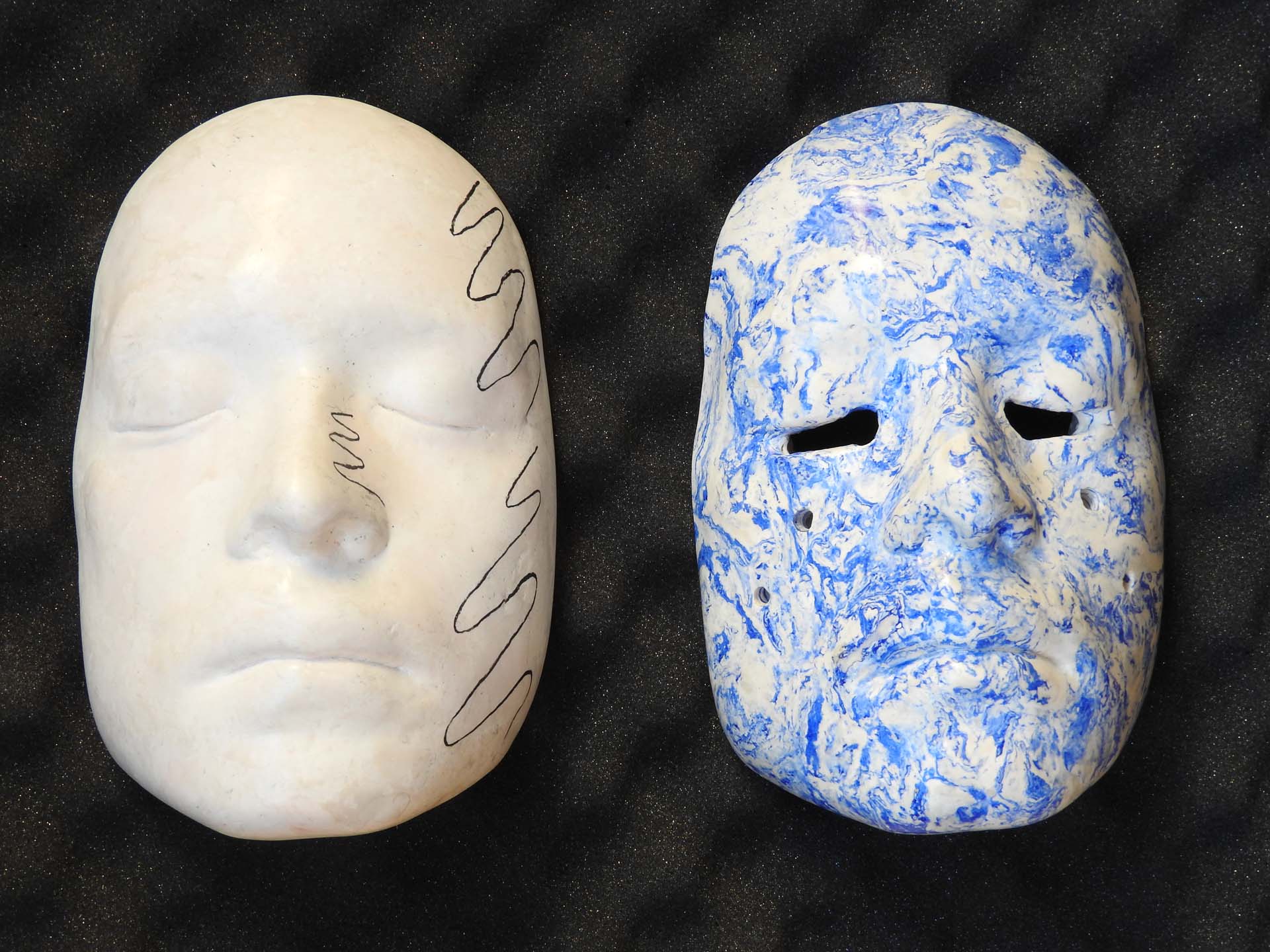 Masks (pink and blue), 2020. Scagliola (plaster, pigments), accordion reeds, plastic tubes. 23 x 15 x 10 cm.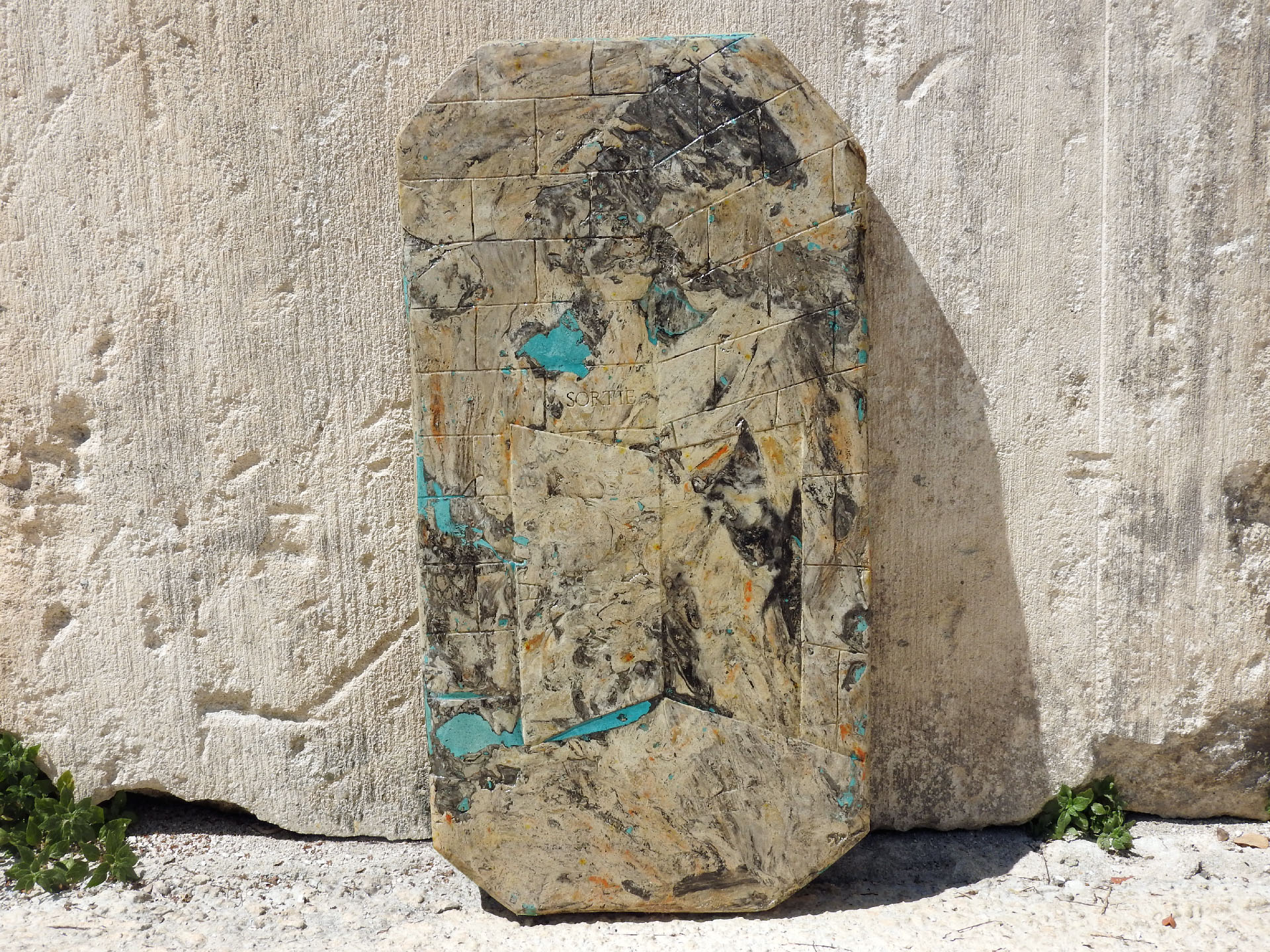 Intérieurs, 2019. Scagliola, rope. 60 x 30 cm. Le Bal du Marquis, Les Carrières du Château de Lacoste (Marquis de Sade), Lacoste.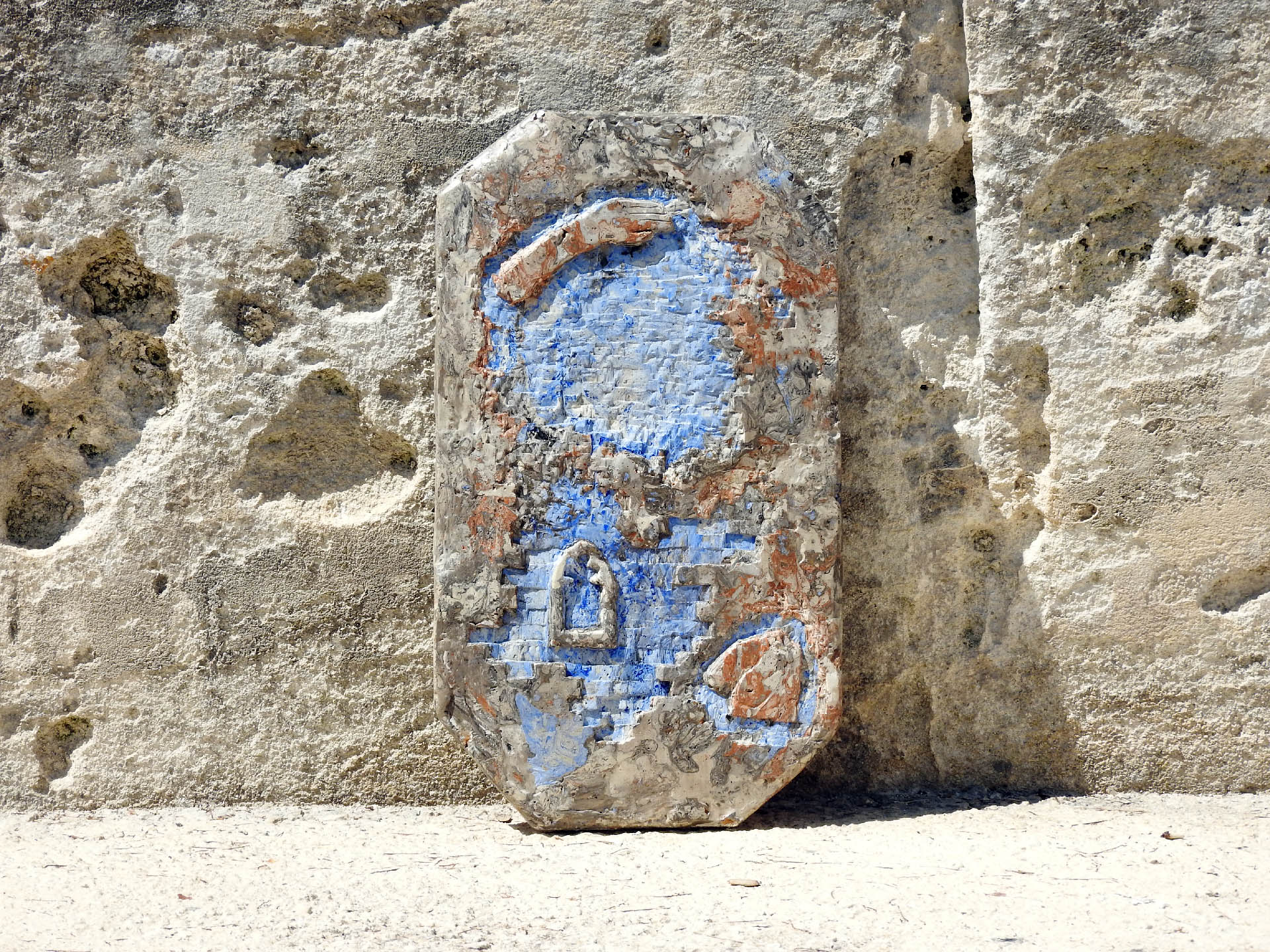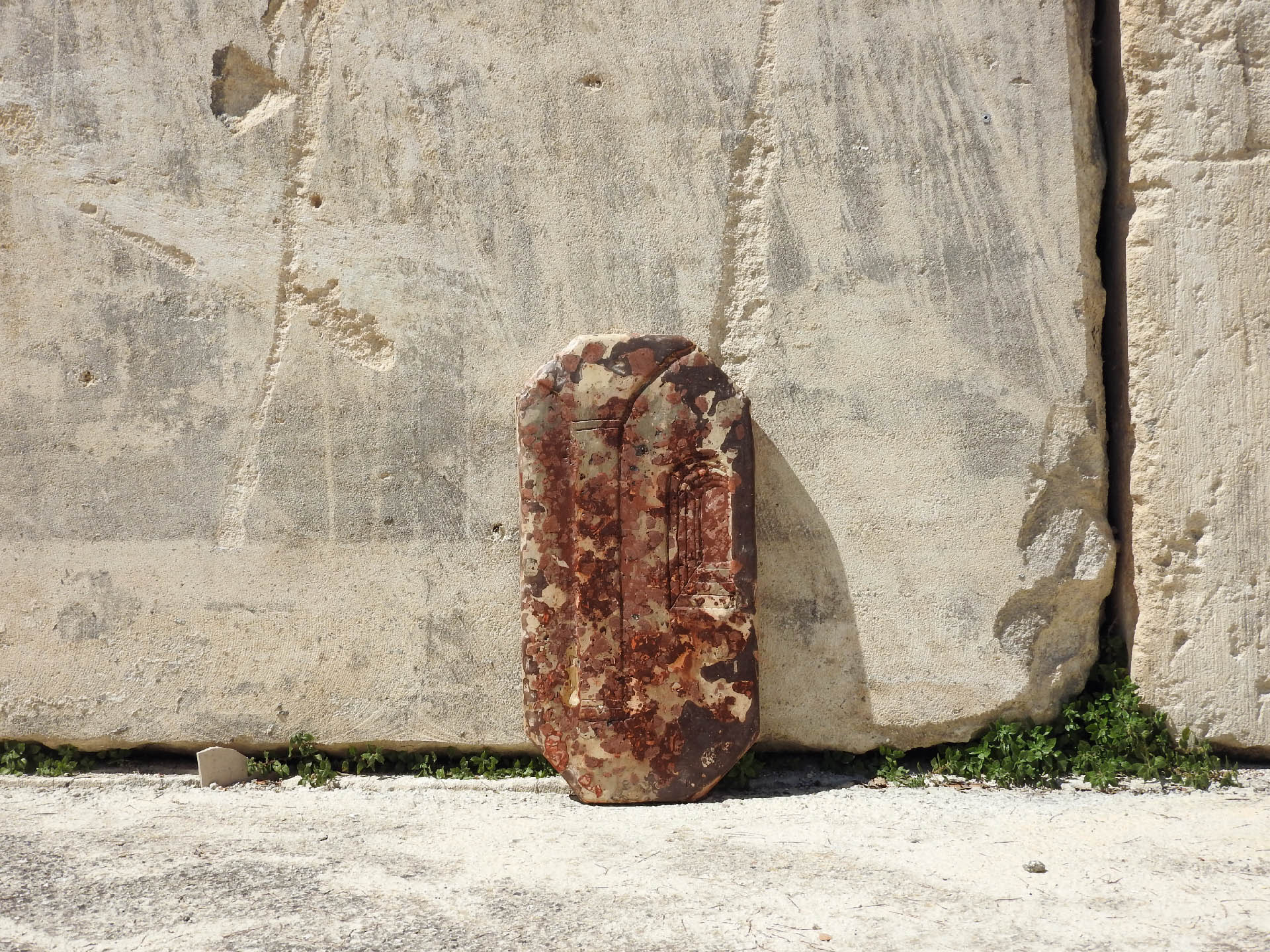 Series inspired by the mythology of the Marquis de Sade. Commissioned by Cyprien Schaffner. Realised with the support of Maquisards, Marius Fraychinaud, Sunflower, La Margelle, Pierre Cardin, Festival de Lacoste, Discover Radio, École supérieure d'art et de design Marseille-Méditerranée, Doppio.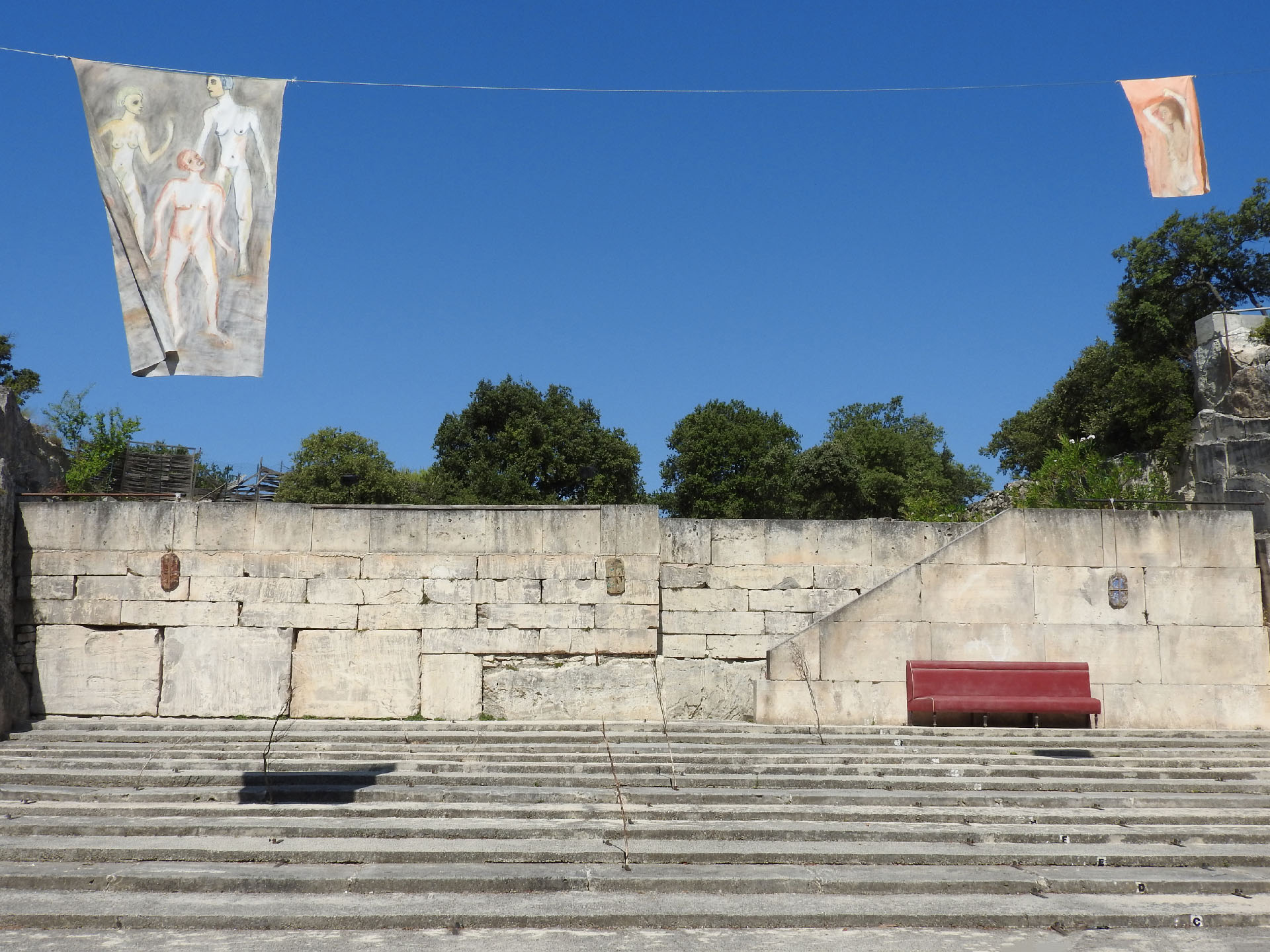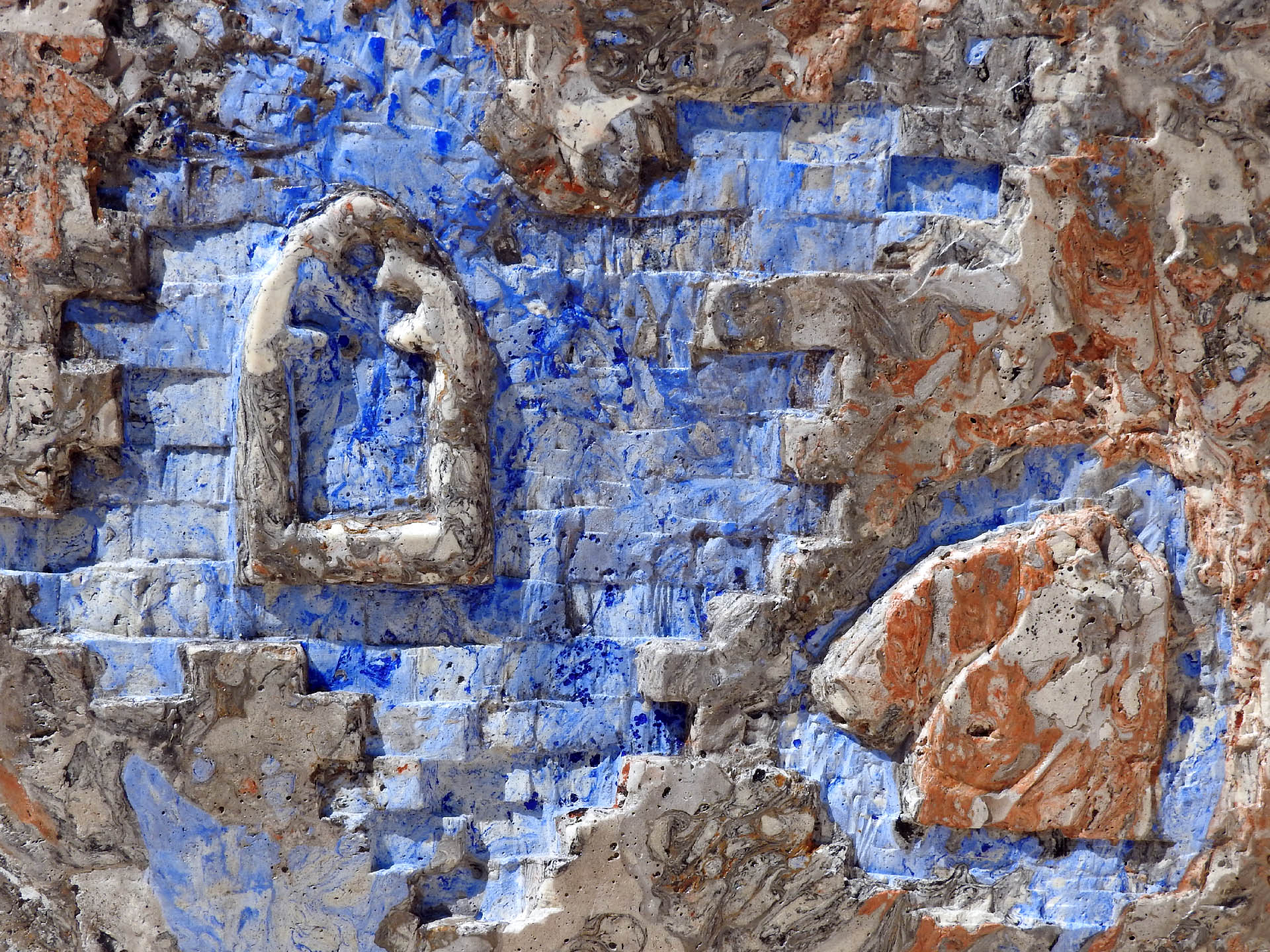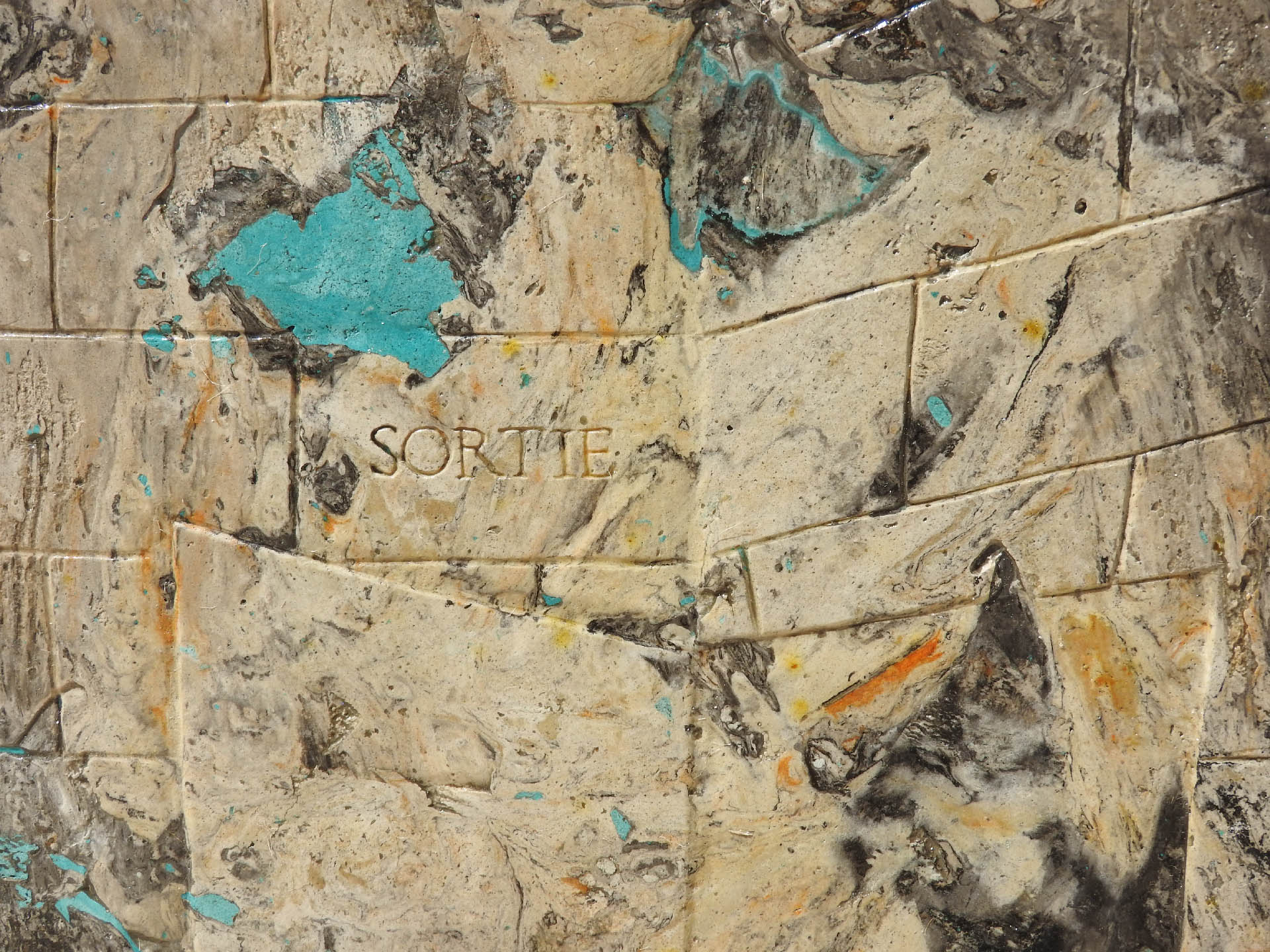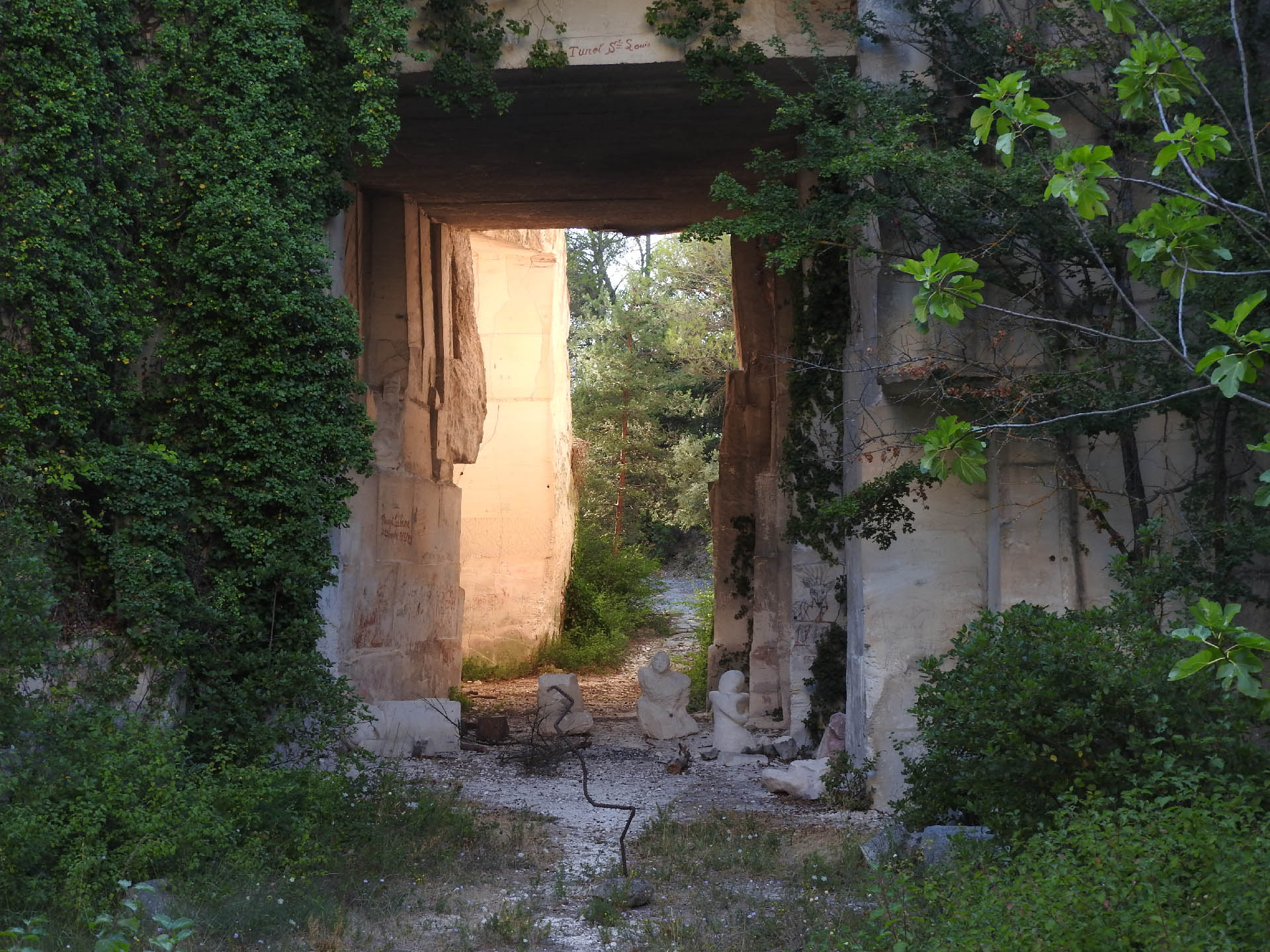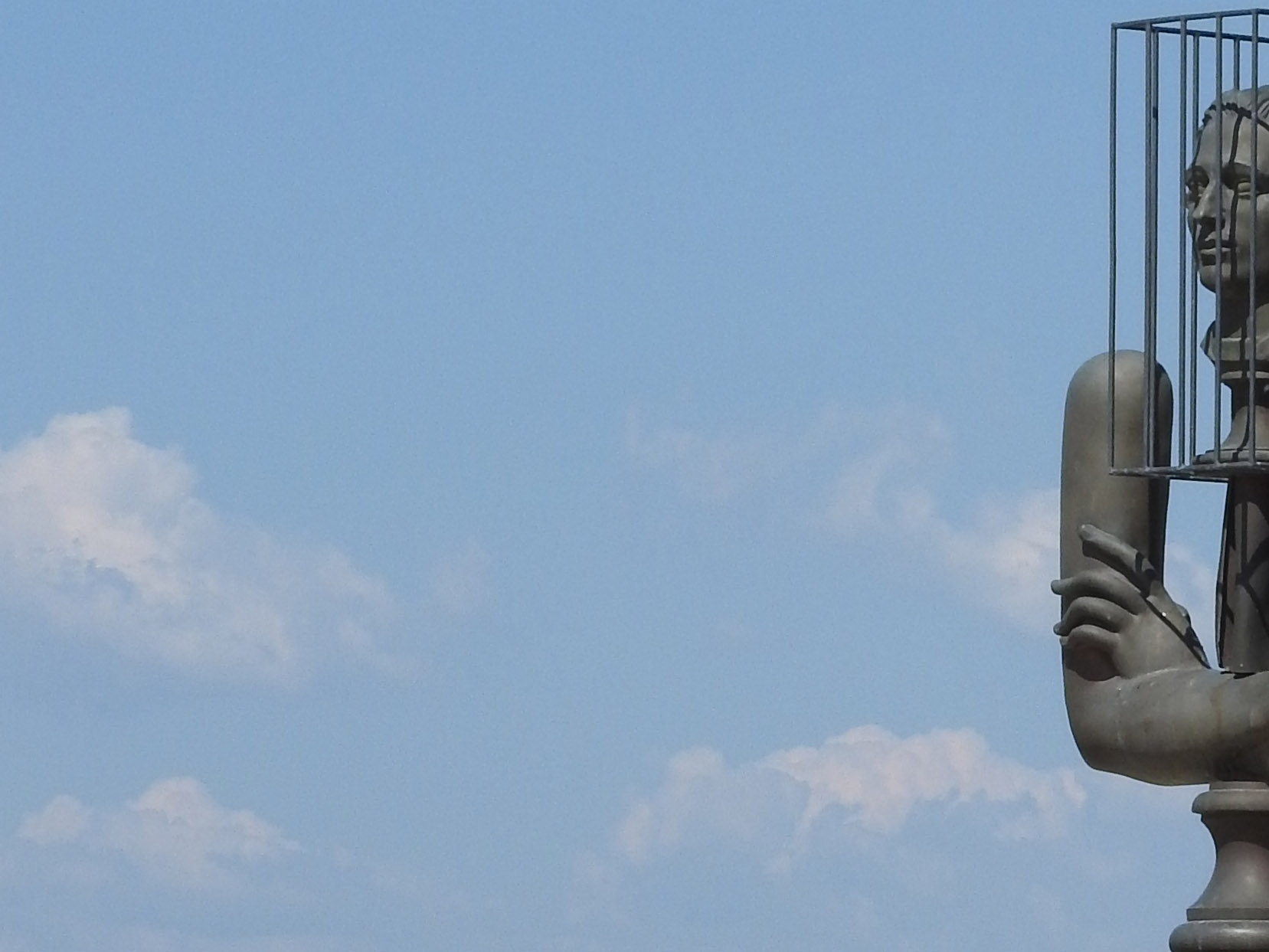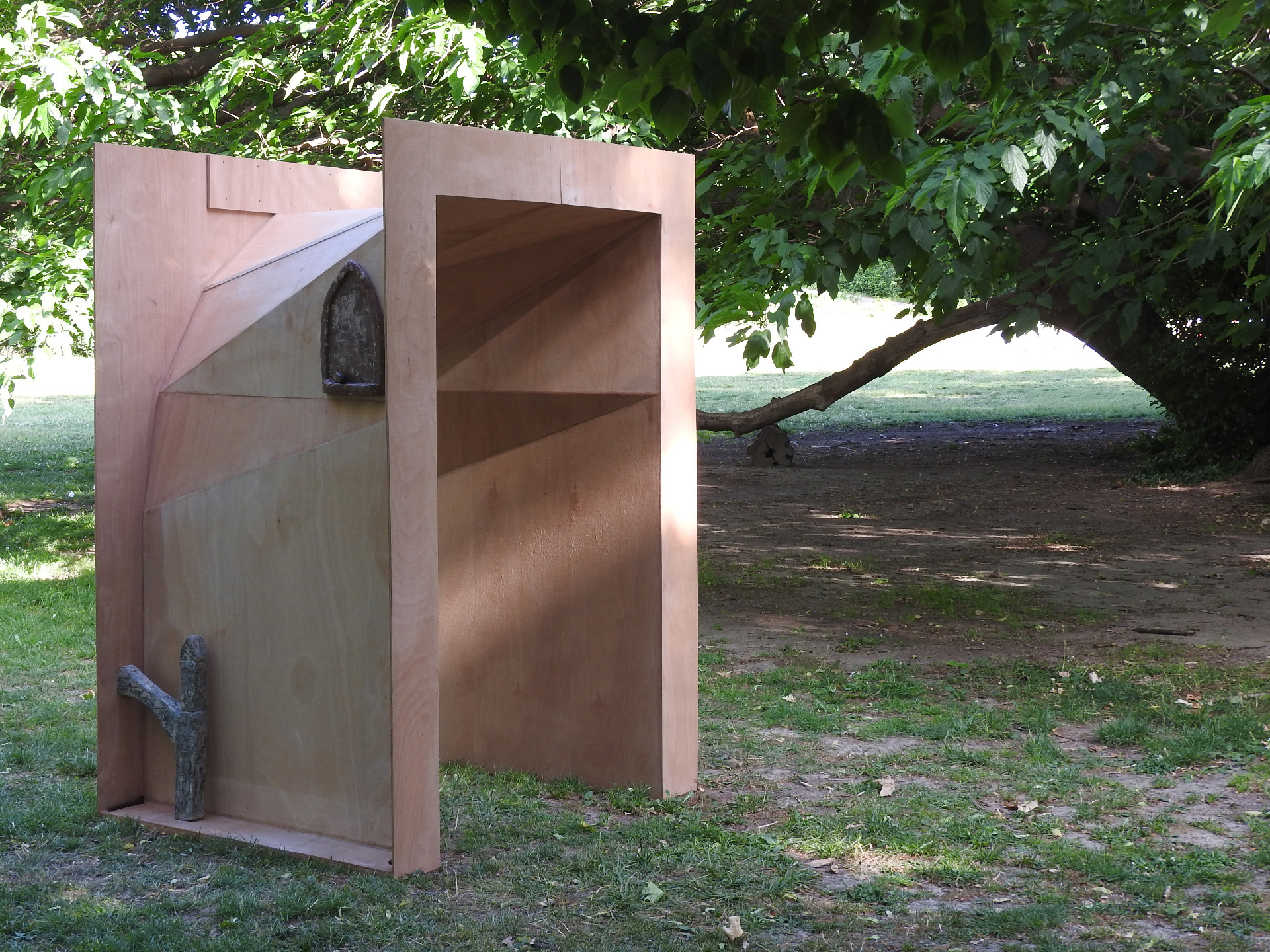 Passage non-orientable, 2019. Installation with found objects and constructions in wood, staff, and scagliola. 2.1 x 1.4 x 1.2 m. Les Arts Éphémères, Parc de la Maison Blanche (Mairie des 9ème et 10ème arrondissements), Marseille.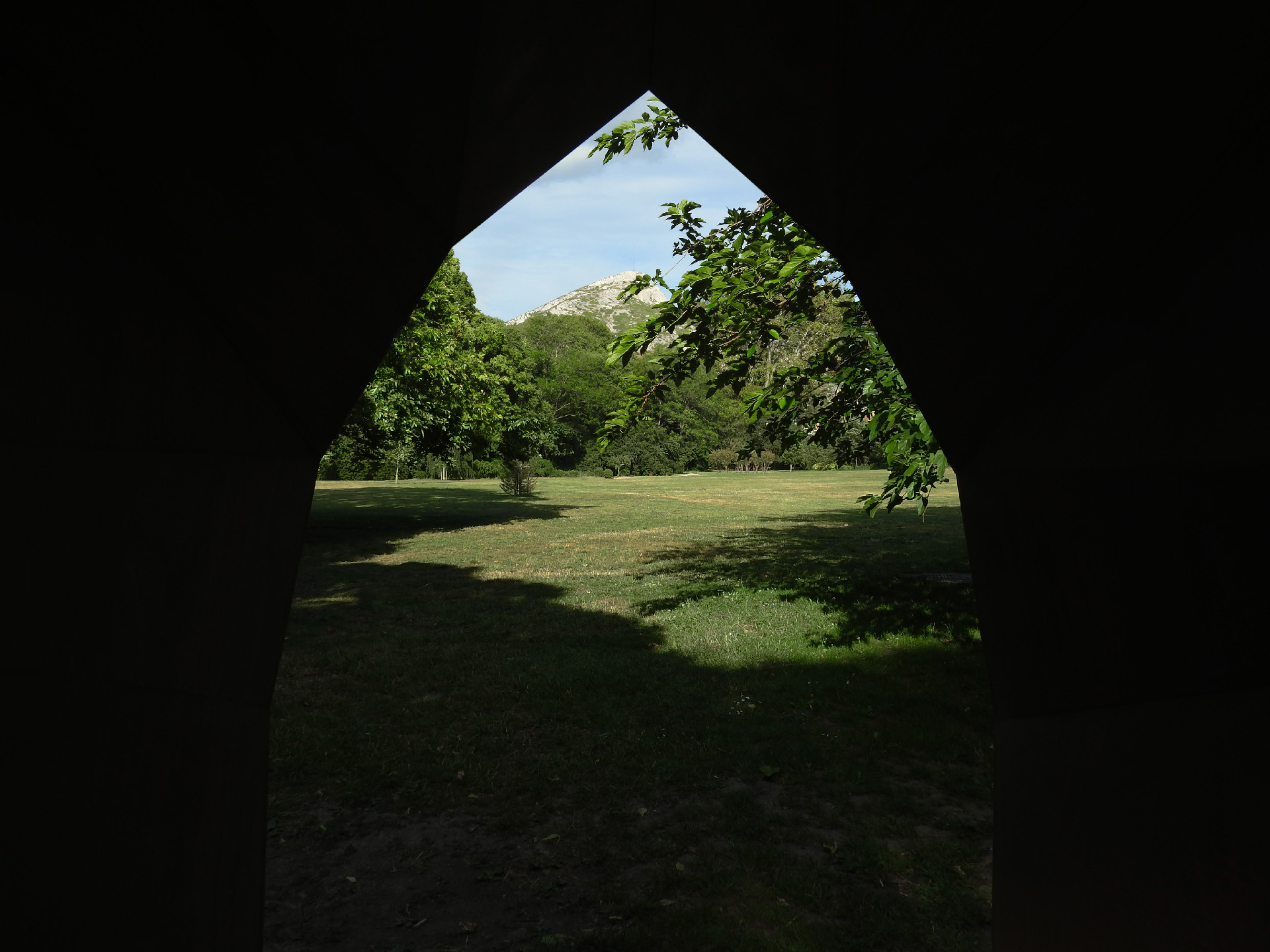 This installation is inspired by themes of allegory and passage, moving between the gothic and the modern; the reason and logic of an arch are put into flux, evoking Klein bottles or Möbius strips. The installation also includes some plaster techniques which were used to create the ephemeral structures for the Expositions Coloniales and Expositions Universelles.
Cette installation est inspirée des thèmes de l'allégorie et du passage, entre le gothique et le moderne ; une mise en flux de la raison et de la logique d'une arche, évoquant les bouteilles de Klein ou les rubans de Möbius. L'installation comprend aussi des techniques de plâtre utilisées pour la réalisation des structures éphémères lors des Expositions Coloniales et Expositions Universelles.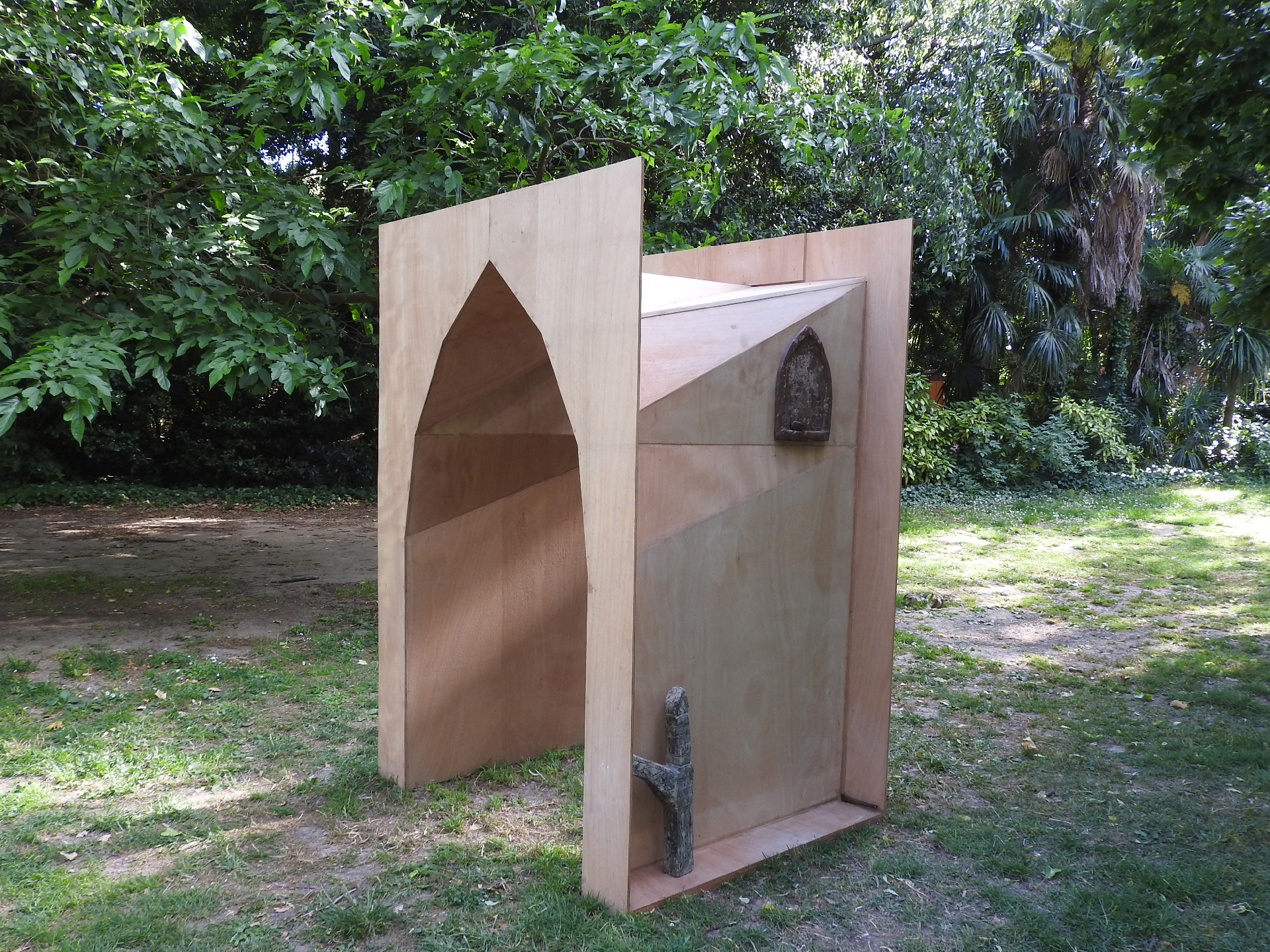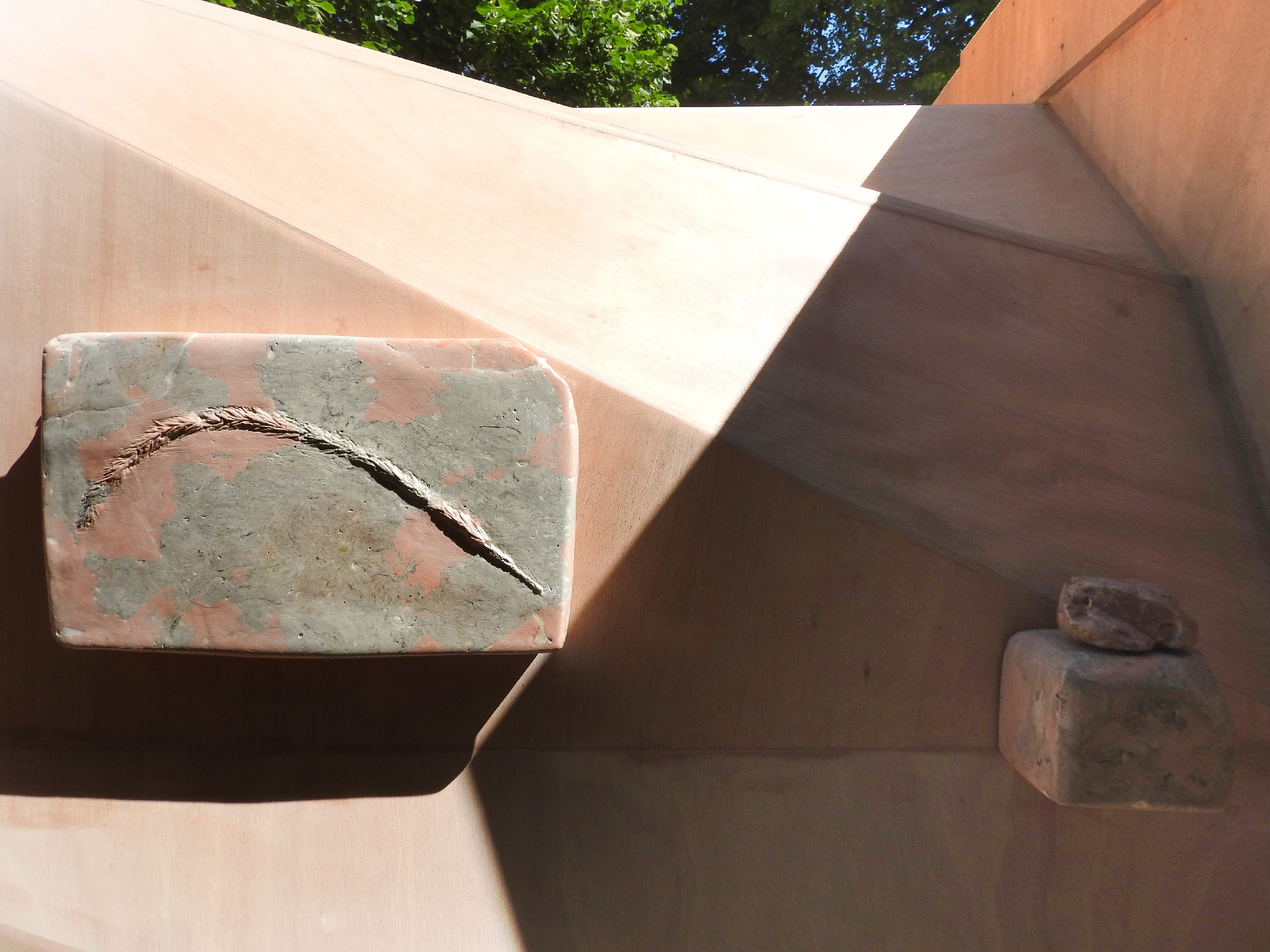 Coproduced by the city of Marseille in partnership with the École supérieure d'art et de design Marseille-Méditerranée, the Musée d'Art Contemporain de Marseille, the Fonds régional d'art contemporain de Provence-Alpes-Côte d'Azur, Art Médiation Événements Organisation Méditerranée. Les Arts Éphémères is part of the Printemps de l'Art Contemporain organised by Marseilleexpos and was commissioned by Isabelle Bourgeois et Martine Robin.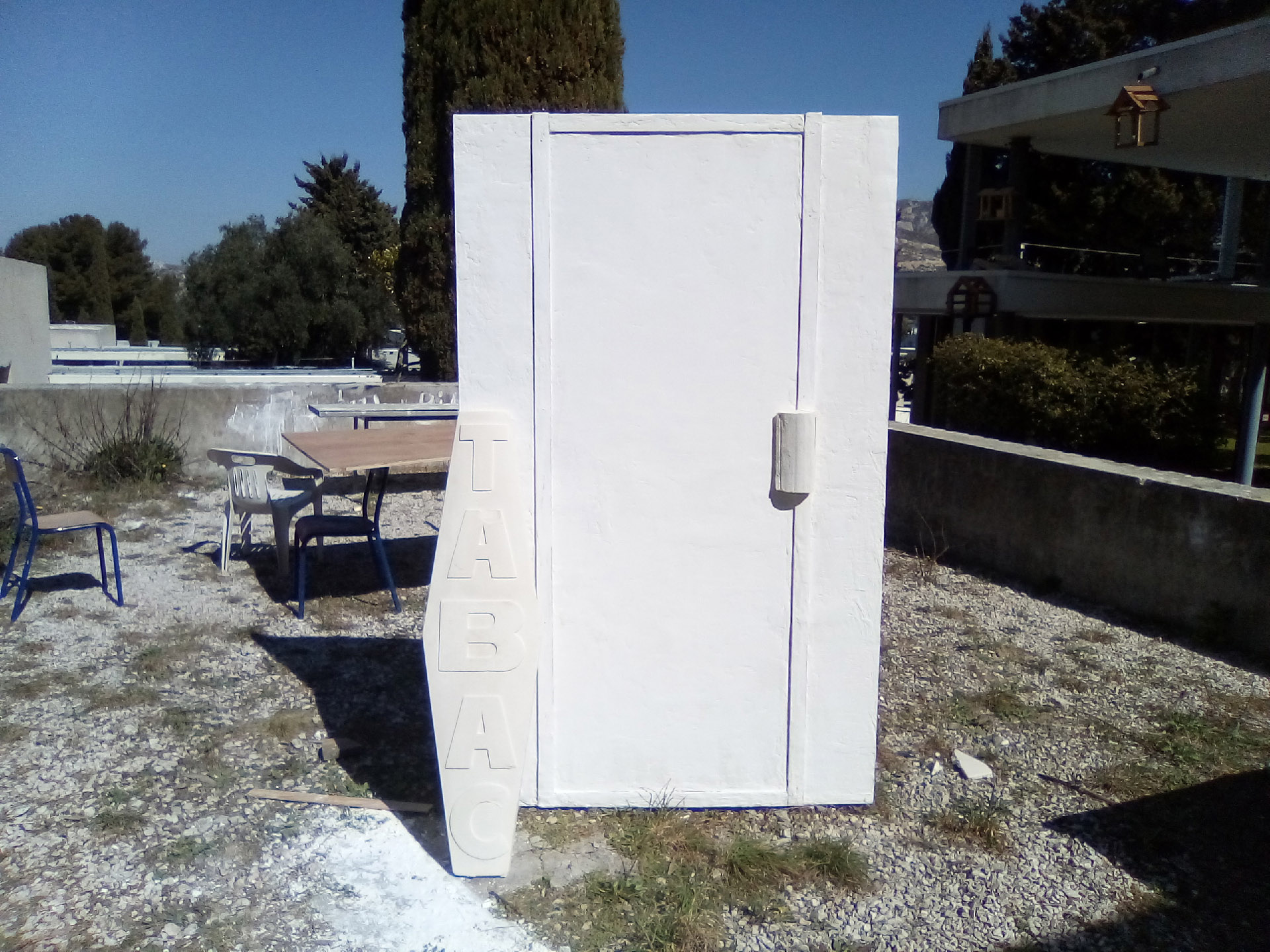 Tabac, 2019. Staff (plaster, vegetable fibres), wood. 2 x 1.2 x 0.5 m.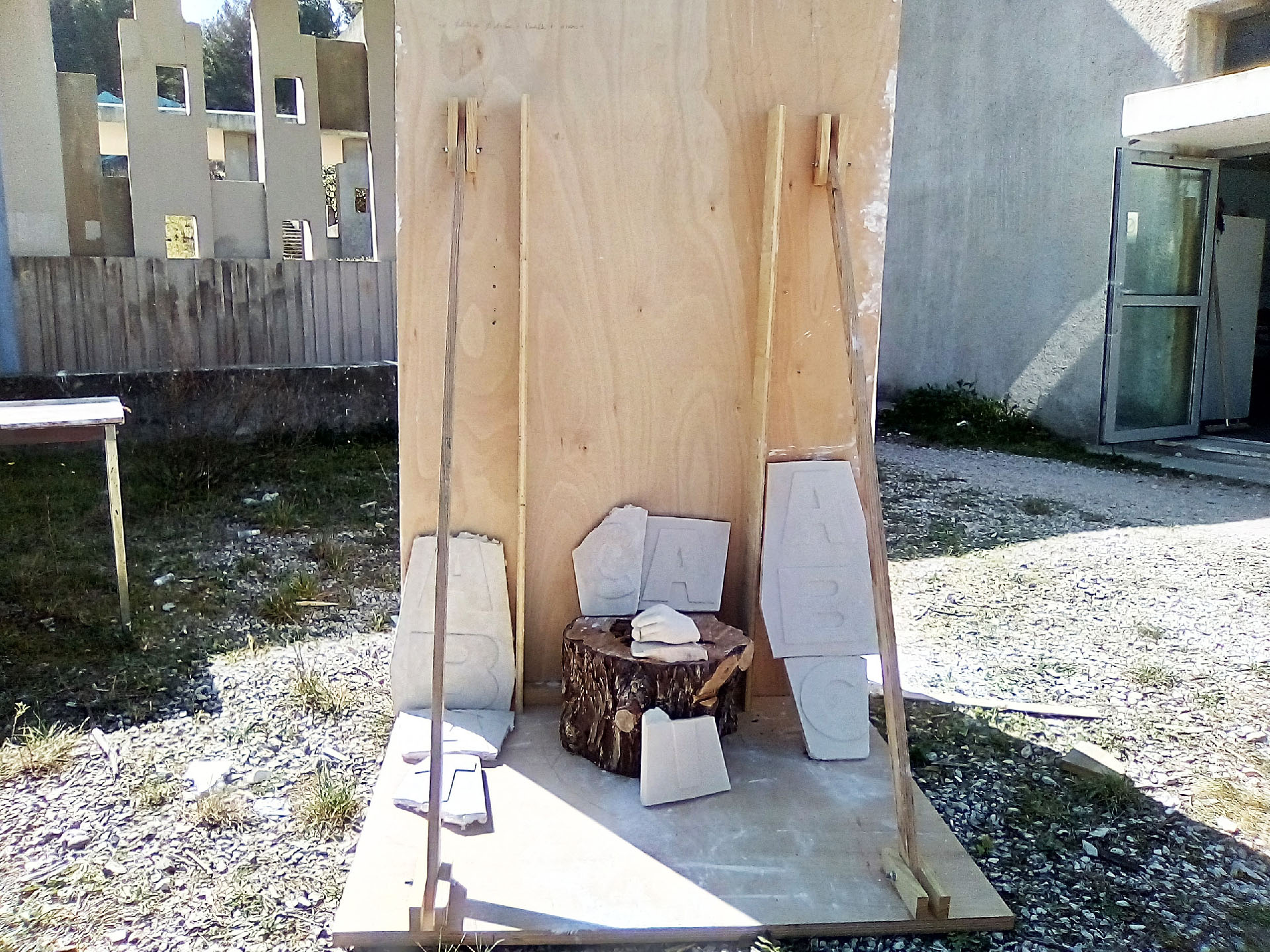 The plaster technique of staff seems to me to be a sort of photography in space. Staff reconstructions of several gothic church facades are on permanent display in the Cité de l'architecture et du patrimoine in Paris, and in some cases the brut reverse sides of the plaster structures are visible.
Plaster casting expeditions were also dispatched to document iconic buildings from the colonies such as Angkor Wat. These casts were then returned to France and archived in the former Musée de sculpture comparée, later being employed in the reconstruction of monumental structures from the colonies for the Expositions Coloniales of Marseille. A monumental copy of Angkor Wat, for instance, was constructed where one now finds the Vélodrome.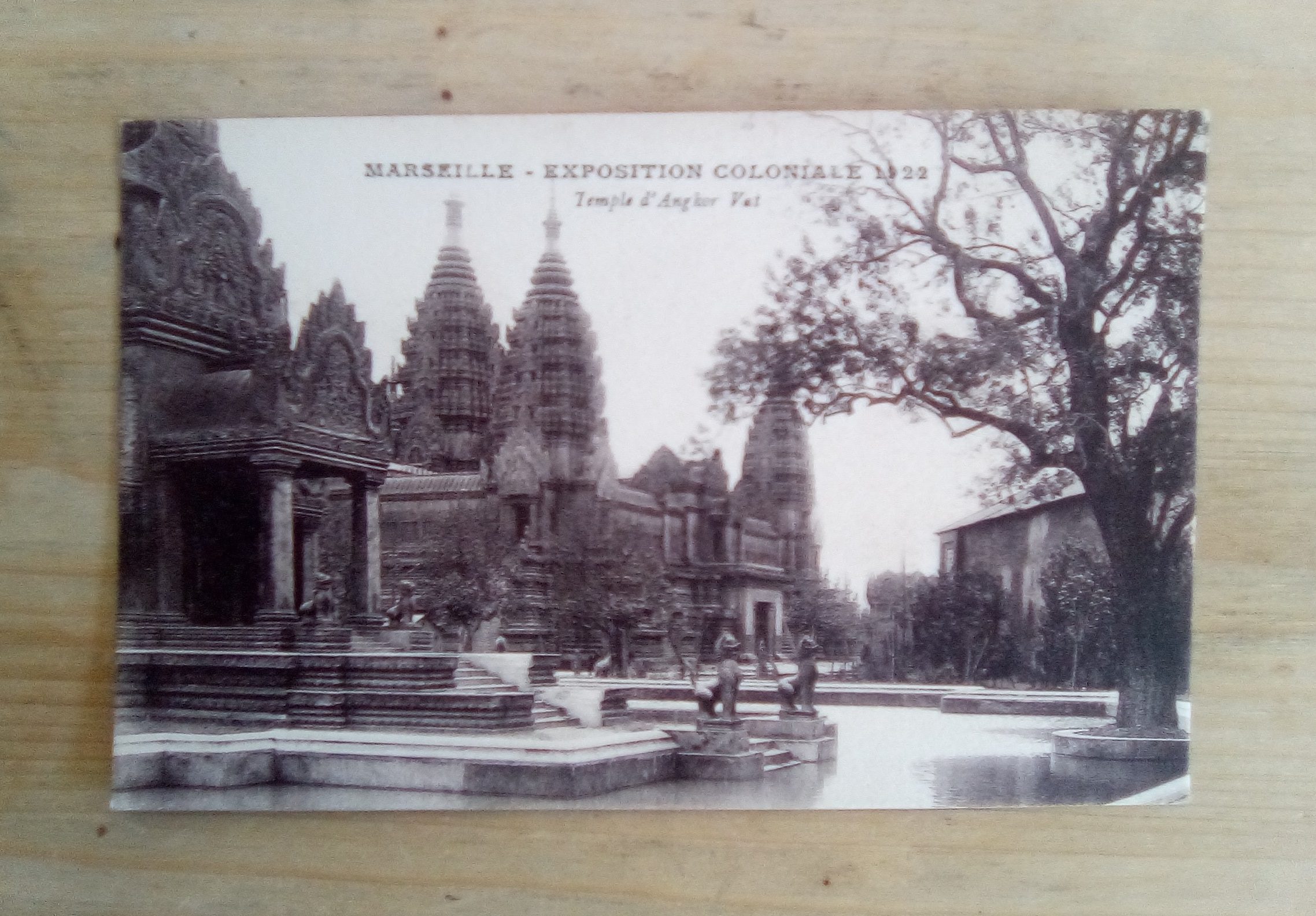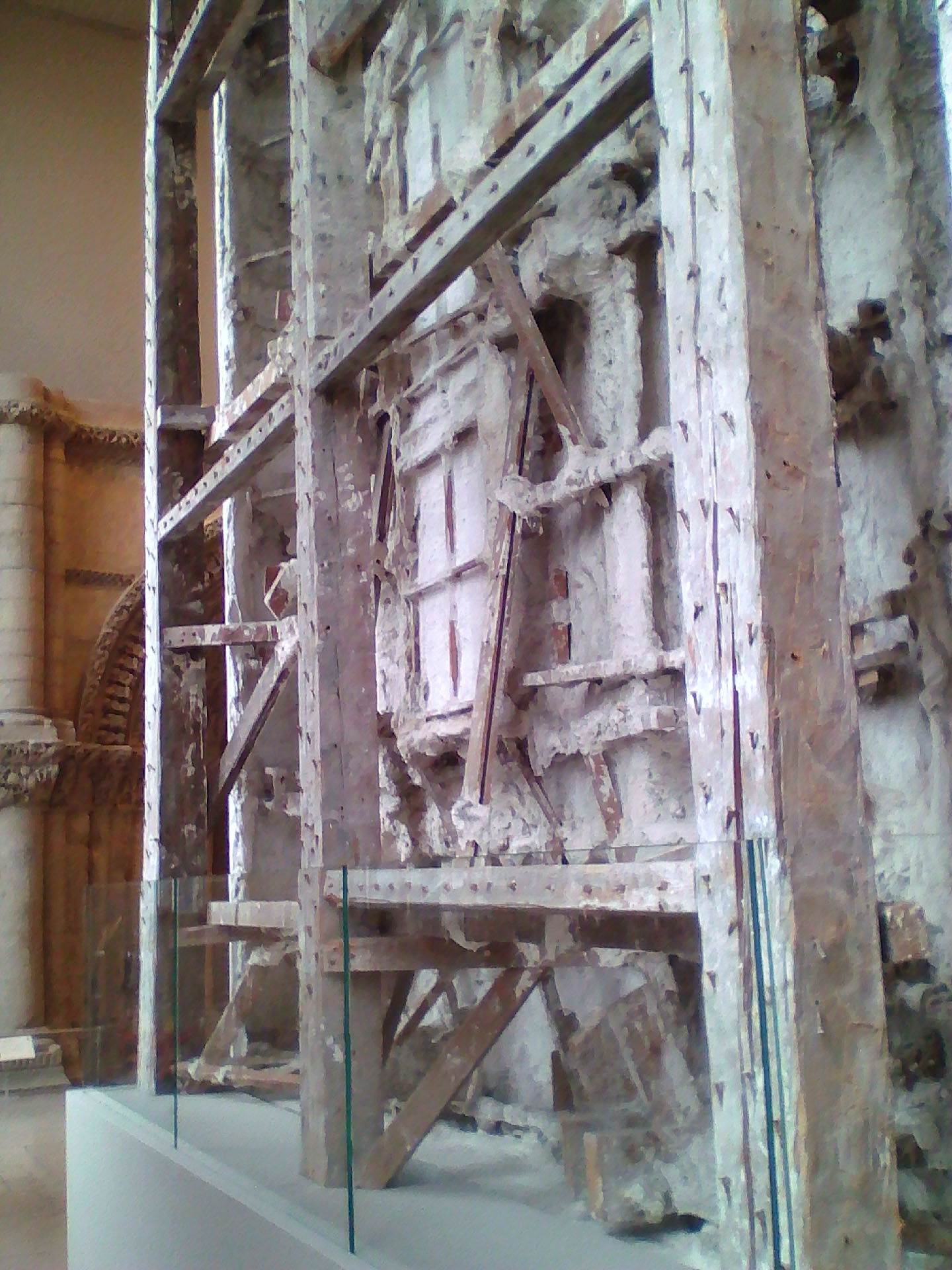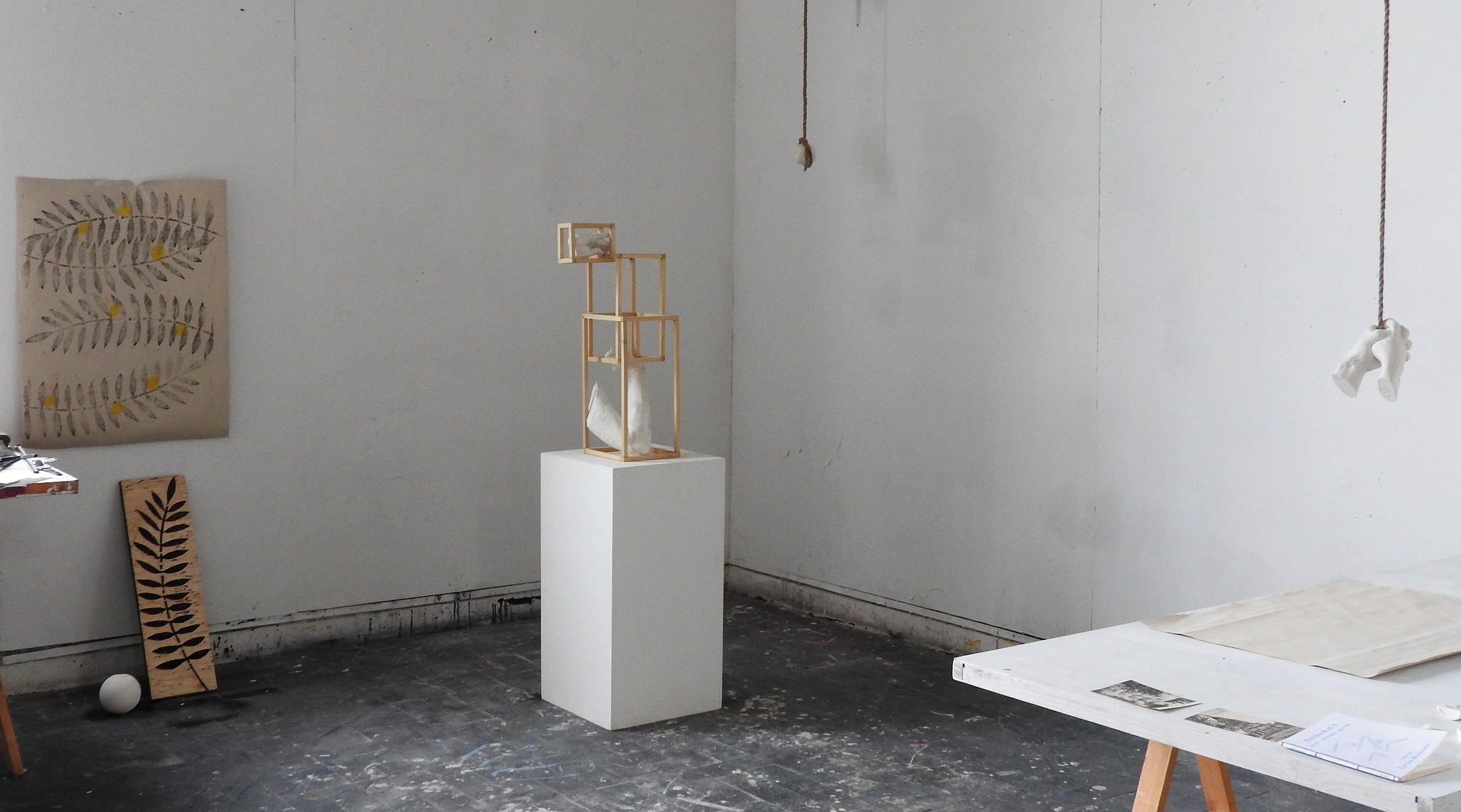 Porte-à-faux et d'autres choses, 2018. Plaster, hemp cord, wood. Variable dimensions.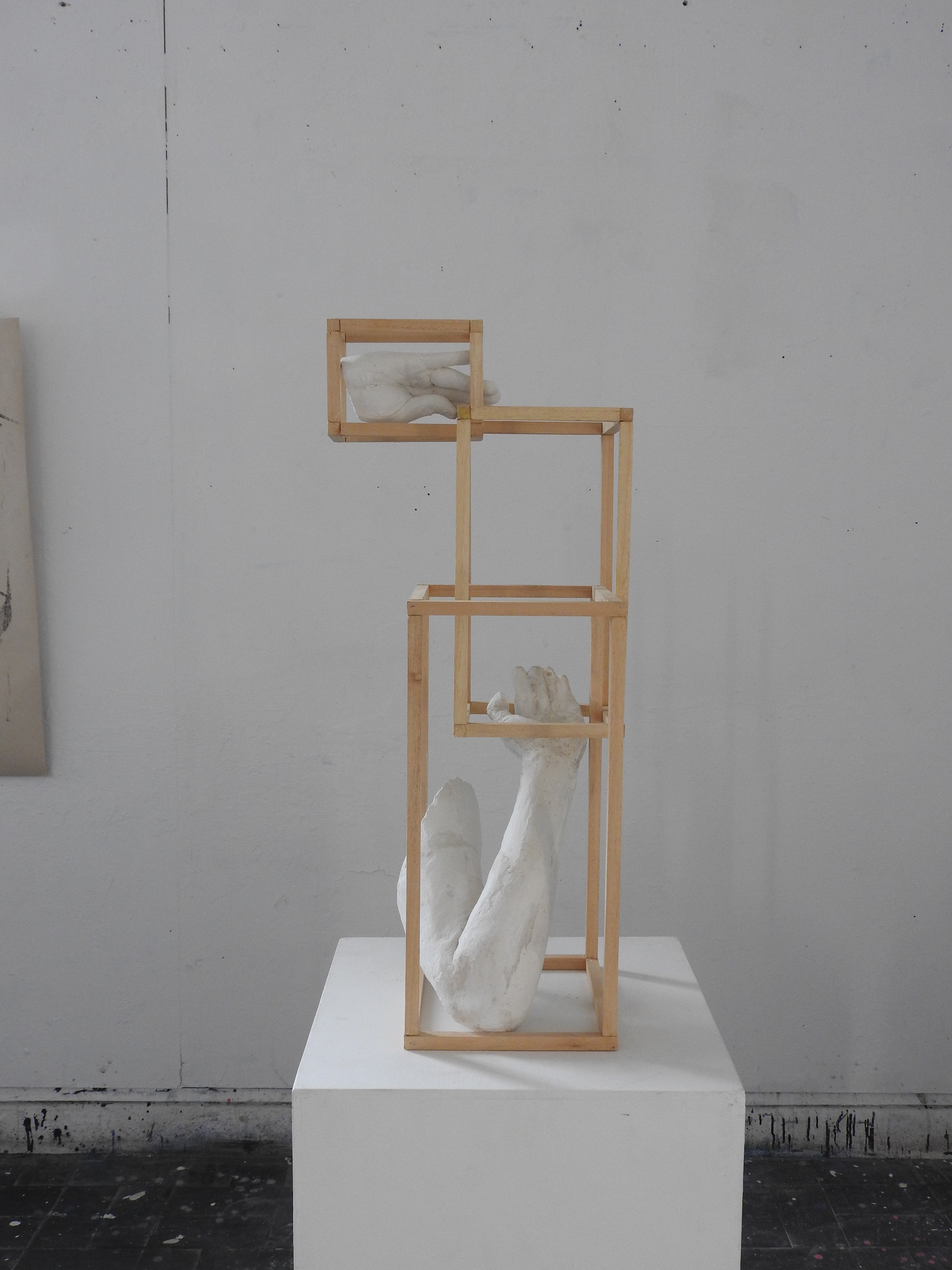 I've tried to reconfigure the materials and visual motifs of my research to create a Benjaminian, allegoric collection of arches, passages, and cantilevers.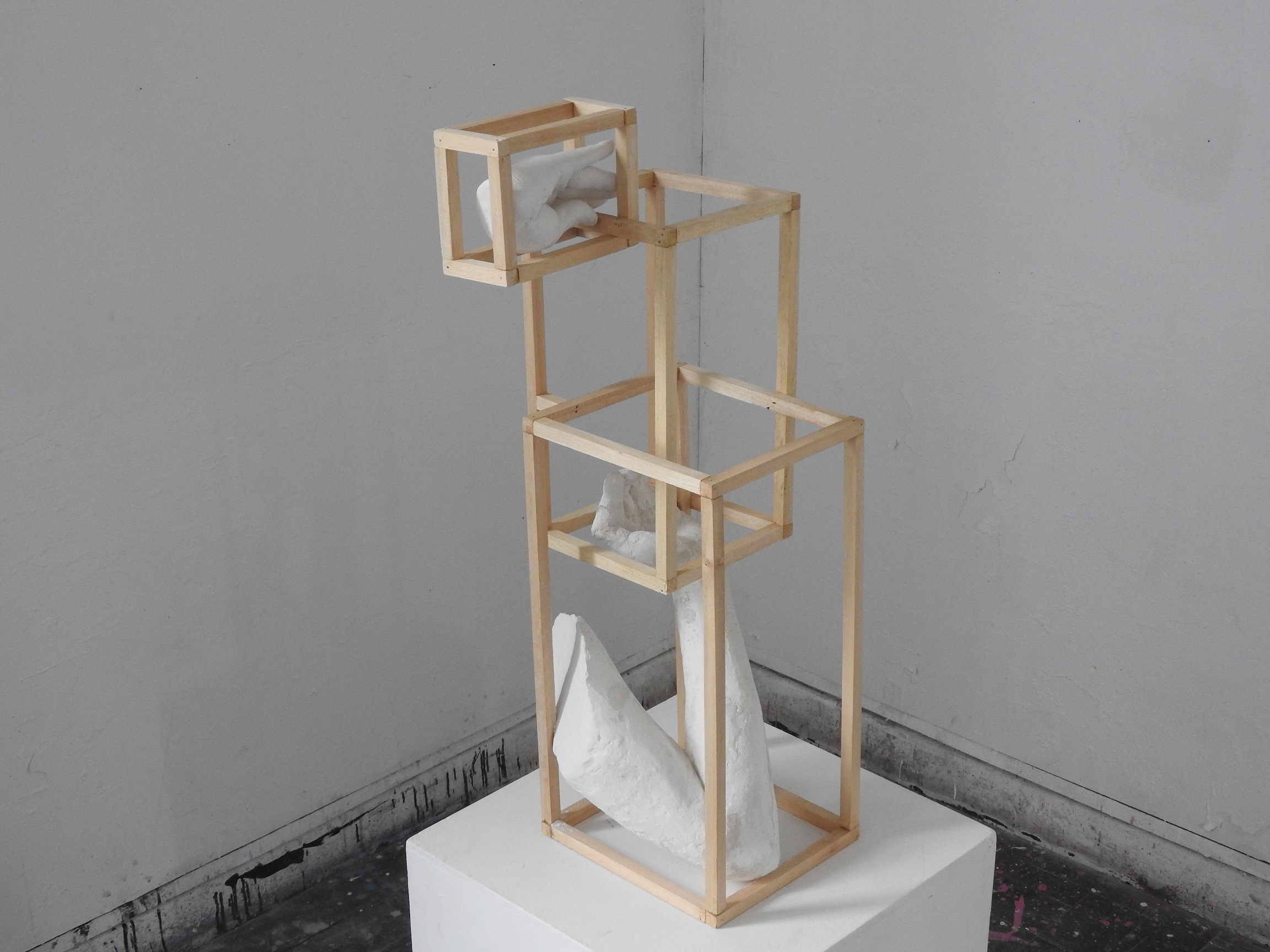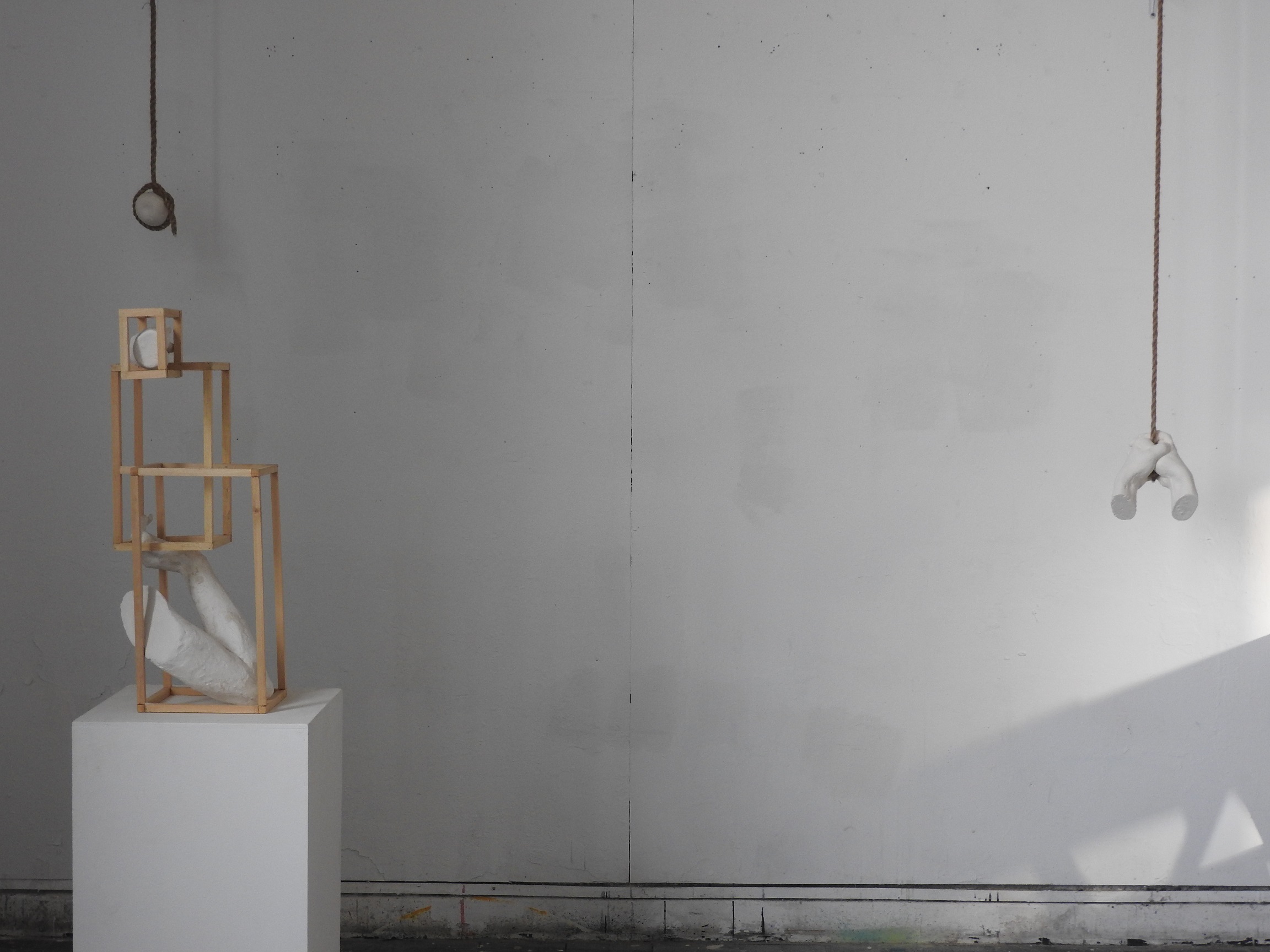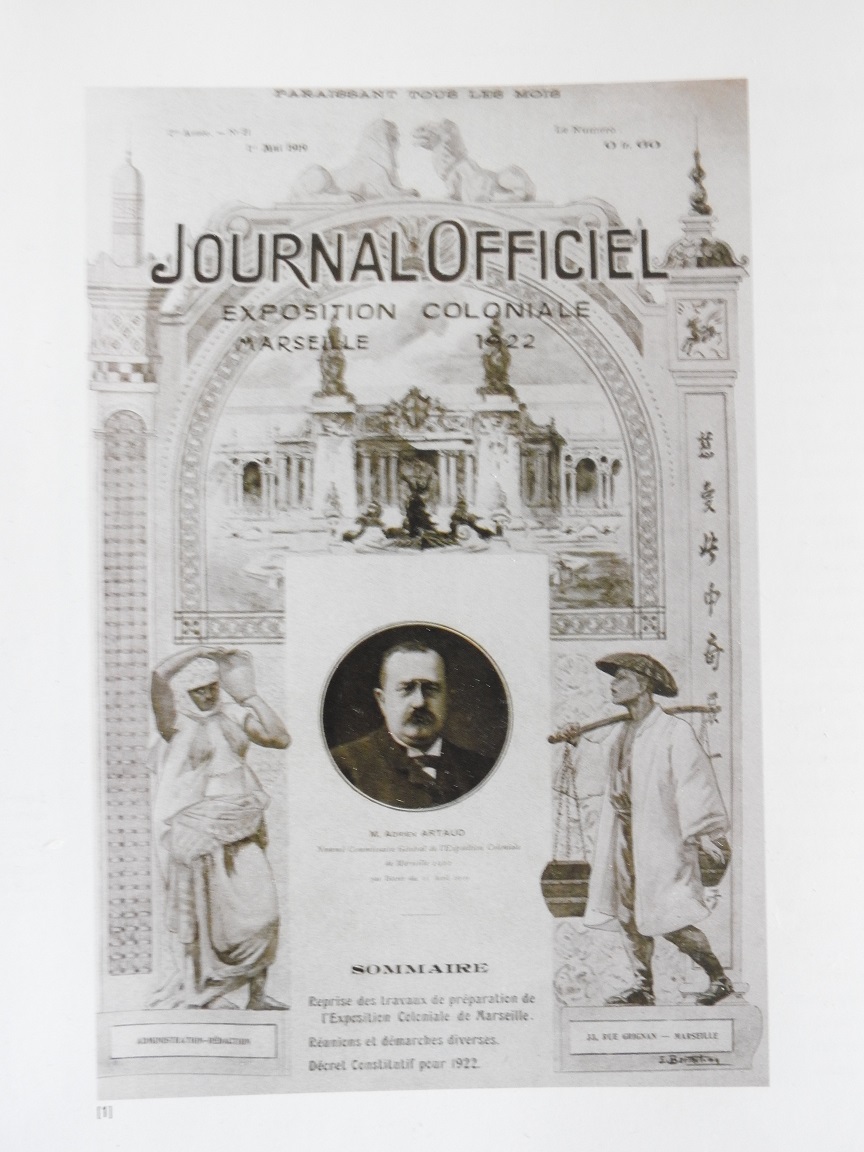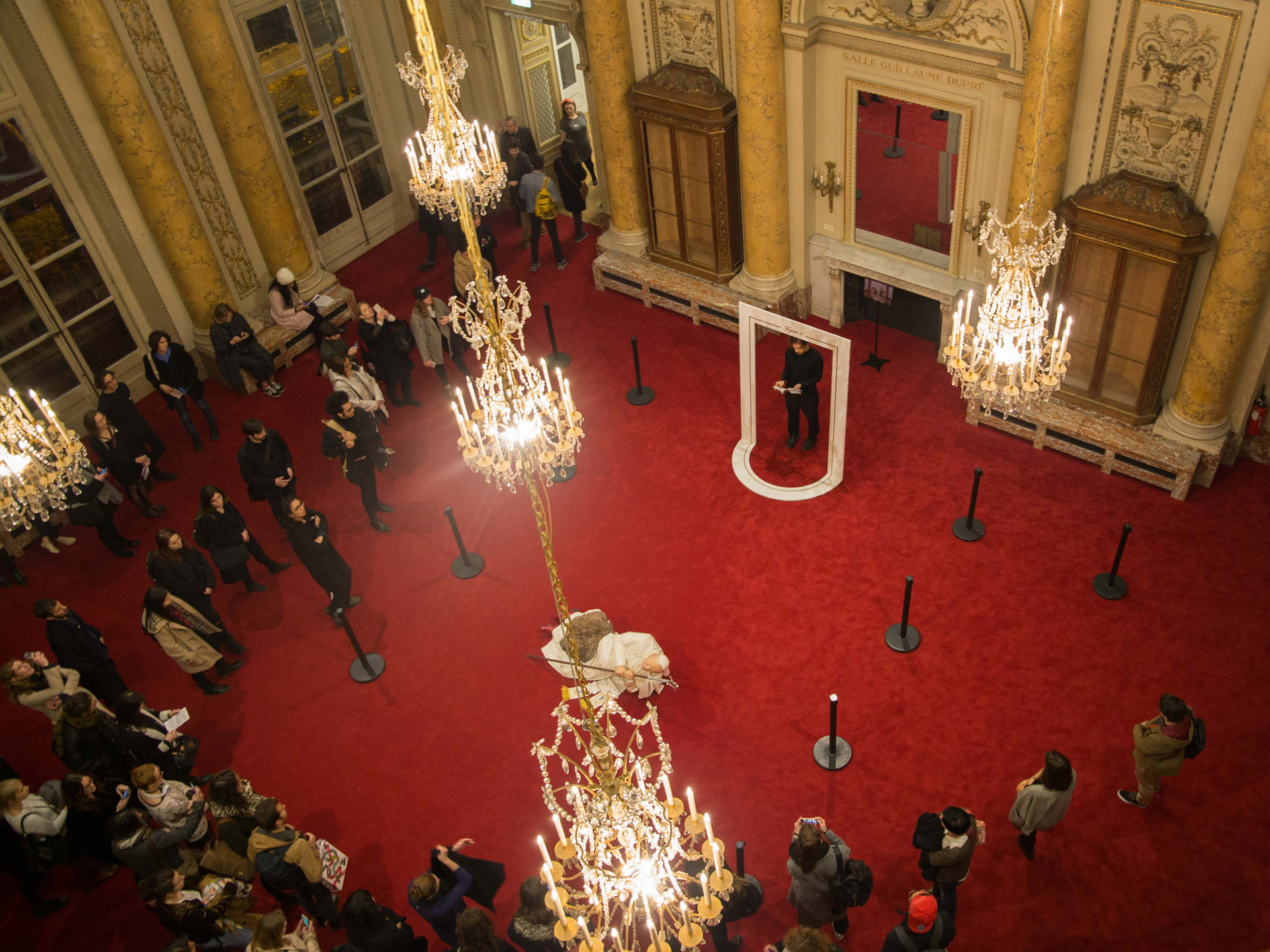 Arc Autoportant, 2016. Installation and performance. Monnaie de Paris, Paris.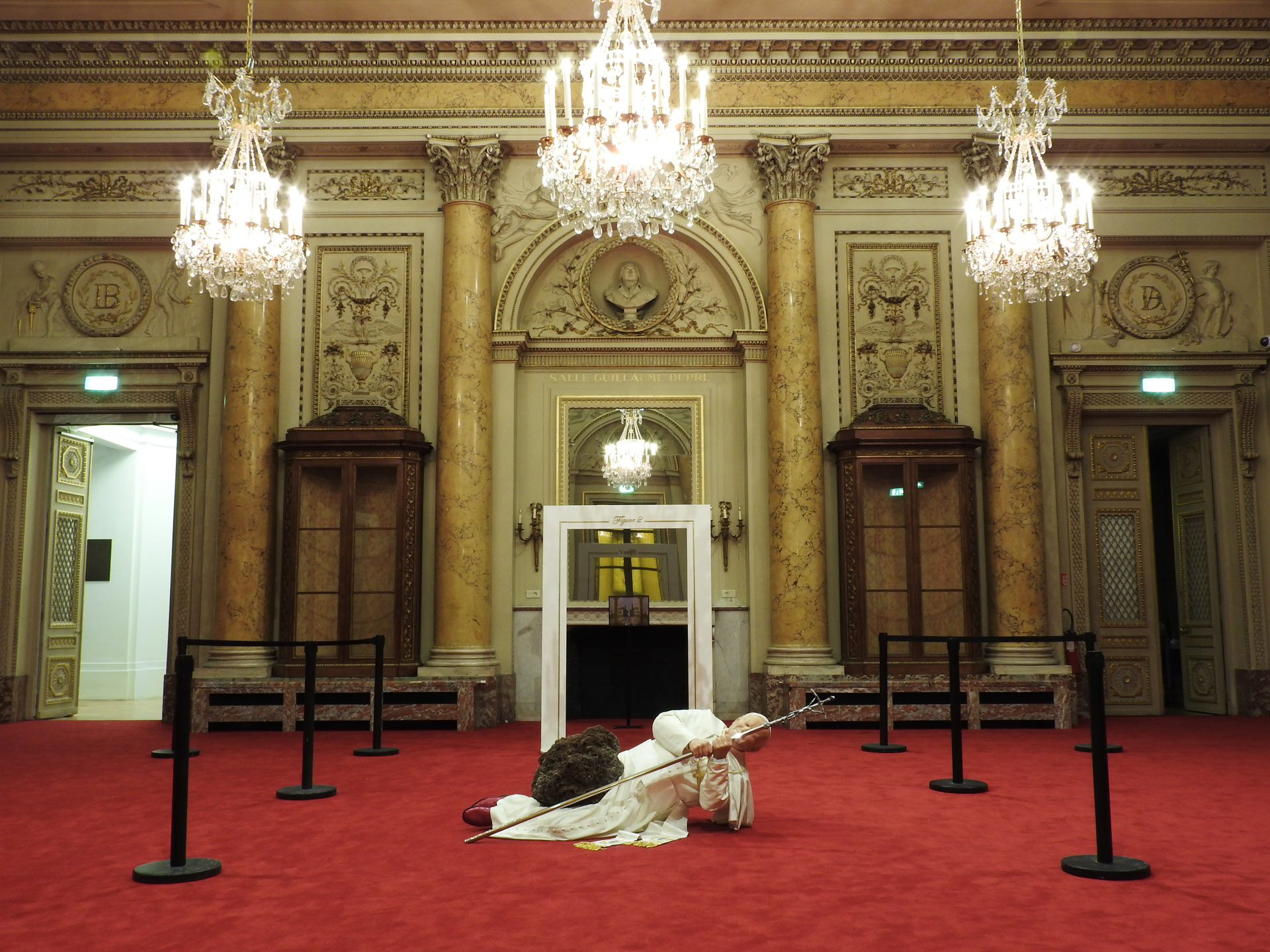 Intervention curated by Katia Porro, Francesco Pastore, Margaux Salgado, and Forrest Pelsue for the Maurizio Cattelan exhibition 'Not Afraid of Love'.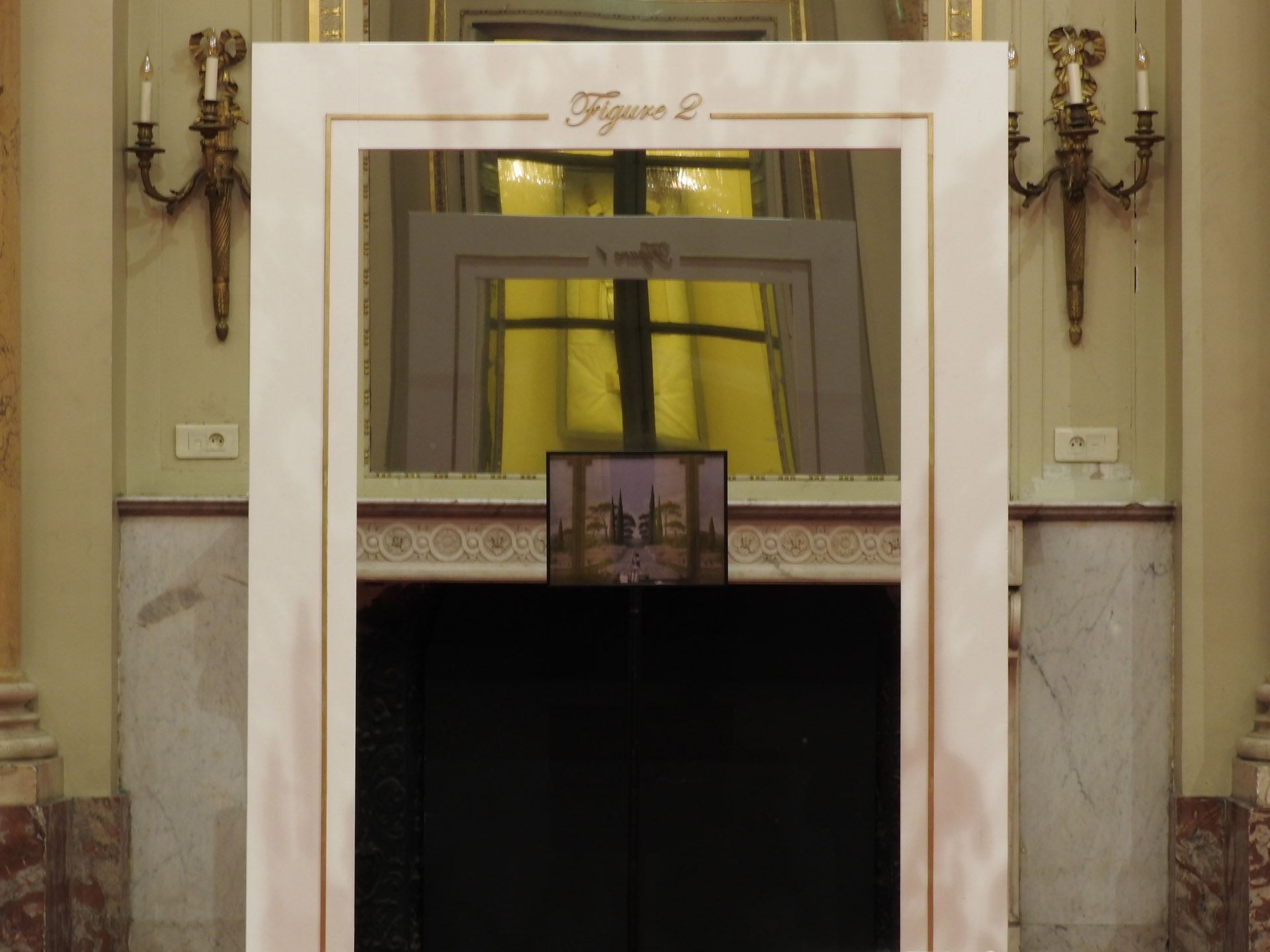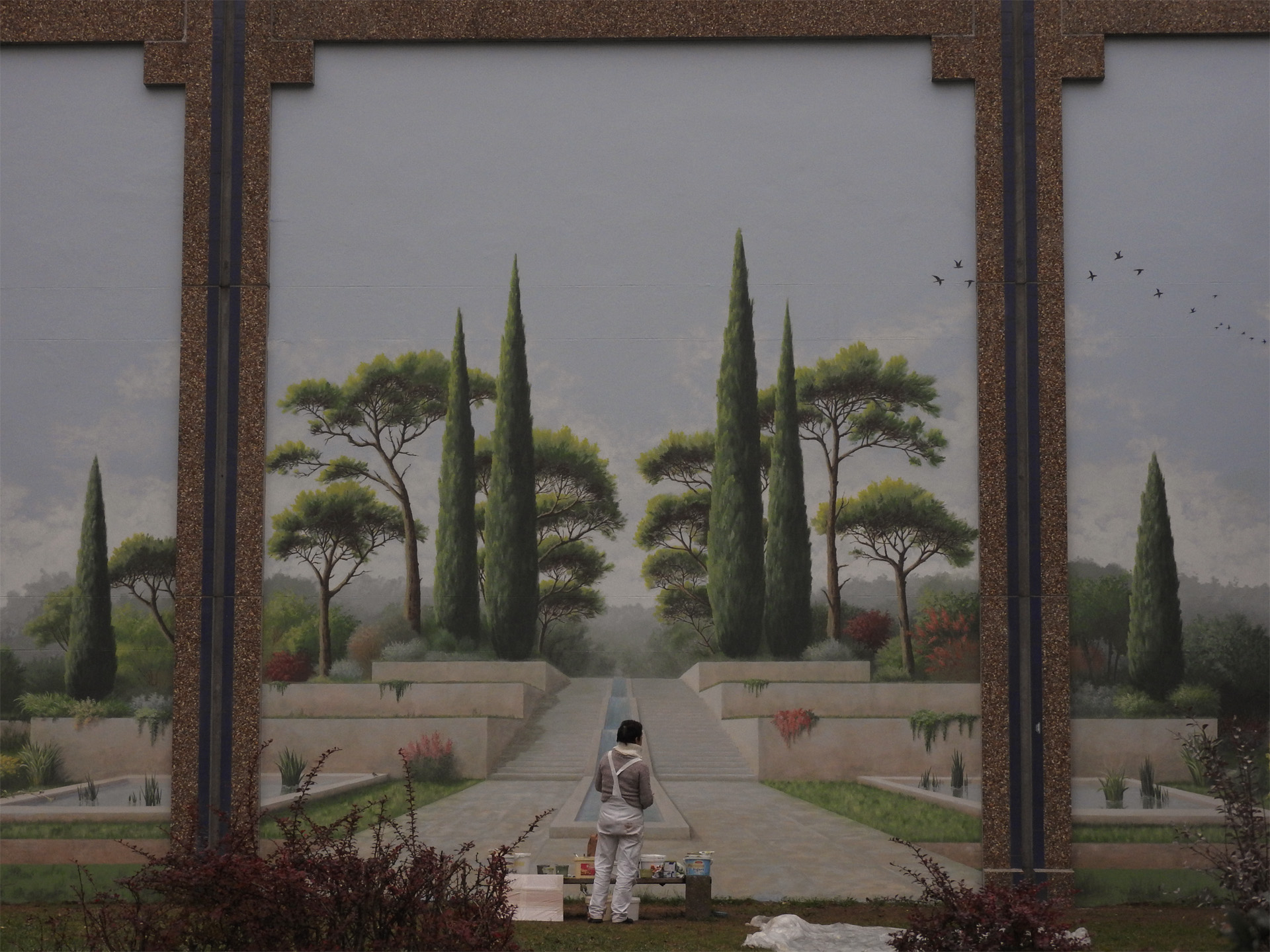 Pastorale (Noisy-le-Grand), 2016. Digital C-print on aluminium. 26.7 x 20 cm. Photograph of the installation of a public art work outside of a high-rise in Noisy-le-Grand, near Paris.
Breath Piece, 2016. Composition. Performed by Adam Carmichael (cello), Ollie Hawker (violin), Peter Lorenz (clarinet), and Lucian Moriyama (bass viol).
A piece where harmonic motion and rhythm are decided through the collective breathing rhythms of the performers.
Composition 1960 #7 by La Monte Young, 2015. Performance. Performed on the sheng, a Chinese mouth organ. Broadcast on France Musique.
The instructions for La Monte Young's Composition 1960 #7 are very simple: two notes, B and F# (a perfect fifth) are 'to be held for a long time'. This piece seems to propose that the interesting parts of music are not always notated, but rather sensual, psychological, or embodied. The sheng's ability to sustain notes while breathing in and out seemed perfectly suited to minimalism's Eastern obsessions.
Automatic Writing for Clavichord, 2015. Composition.
The clavichord is a uniquely intimate and expressive keyboard instrument. It is incapable of playing very loudly, but a forceful touch does permit the performer to bend the pitch. In this amateurish homage to Robert Ashley, I recorded myself playing the same phrases over and over, letting the defects of my playing become the content of the piece. Score.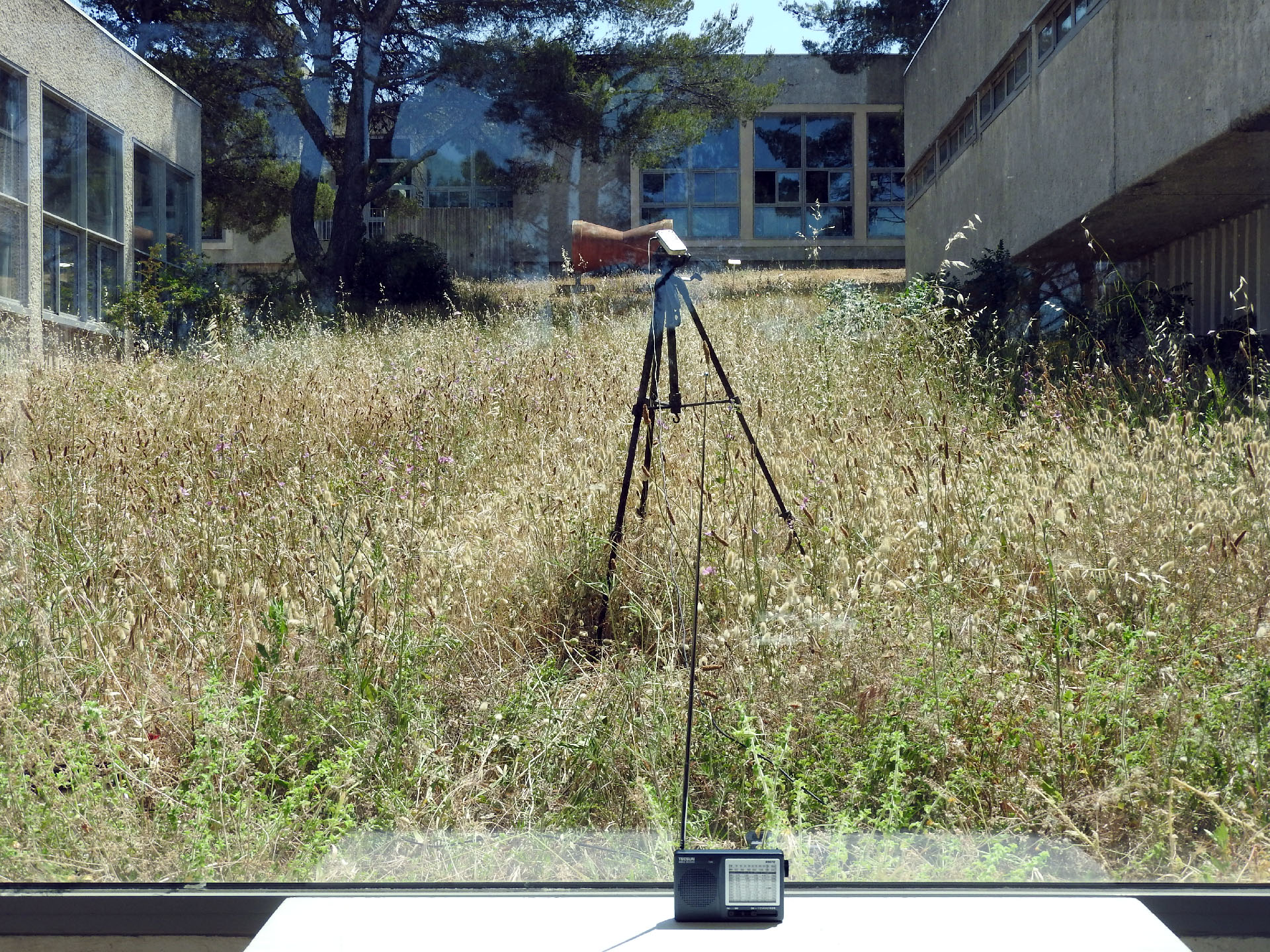 Music for Noise, 2015. Sound installation with field recorder, computer, radio transmitter, and radio.
Music for Noise behaves like a guitar tuner, detecting and playing back barely perceivable musical frequencies. It was conceived of as a response to certain hypocrisies present in the work of John Cage and also as an homage to the composer Cornelius Cardew.
Music for Noise se comporte comme un accordeur, et détecte des fréquences musicales à peine perceptibles. Elle est à la fois une réponse à certaines hypocrisies présentes dans le travail de John Cage et un hommage au compositeur Cornelius Cardew, étudiant et détracteur de John Cage.